Fodder scam: Lalu Prasad sentenced to 3.5 years in jail, fined Rs 10 lakh by CBI court
Jan 06, 2018 11:41 PM IST
This is the second fodder scam case in which RJD chief Lalu Prasad has been convicted.
A Ranchi court on Saturday sentenced former Bihar chief minister Lalu Prasad to three-and-a-half years in jail and fined him Rs 10 lakh in a fodder scam case relating to fraudulent withdrawal of Rs 89.27 lakh from a government treasury 21 years ago.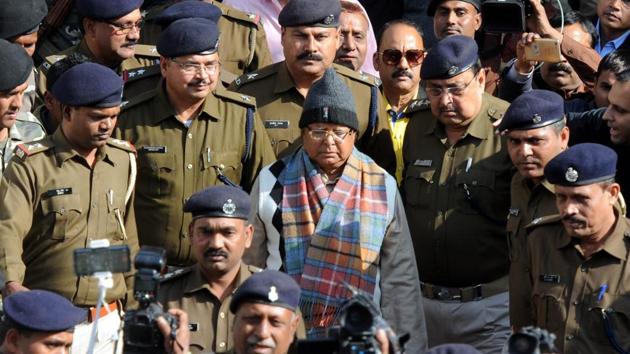 Special CBI judge Shivpal Singh pronounced the quantum of punishment to Rashtriya Janata Dal (RJD) chief Prasad and 15 more convicts in the case through video conference, after the court convicted them on December 23 last year. Prasad is lodged in Ranchi's Birsa Munda Central Jail since his conviction.
Stay tuned with breaking news on HT Channel on Facebook.
Join Now
The jail terms for the convicts range from three-and-a-half years to seven years, and fines between Rs 5 and Rs 10 lakh. The fraud was part of the fodder scam that came to light in 1996, and a CBI probe allegedly found that more than Rs 900 crore had been siphoned off from several local treasuries by showing spends for fictitious medicines and fodder for cattle.
Prasad didn't speak throughout the sentencing, but a tweet from his Twitter handle targeted the BJP.
"Rather than practising BJP's Simple Rule - "Follow us or We will Fix you". I will die happily fixing myself for Social justice, harmony & equality," read the post shortly after the verdict.
Prasad's younger son, Tejashwi Yadav, said in Patna that the special CBI court's verdict will be challenged in the Jharkhand high court. He also accused the BJP and chief minister Nitish Kumar of conspiring against his father, saying his "mass appeal and courage to take on communal forces have left his detractors insecure".
"Lalu is not the name of a person but of an ideology. We, his followers, will not be cowed," said the 28-year-old former Bihar deputy chief minister.
A sentence exceeding three years means 69-year-old Prasad, who had undergone a heart surgery in 2014 and is under strict dietary restrictions, cannot immediately apply for bail in the lower court and must wait until the high court hears his petition.
"We will move an appeal-cum-bail petition before the high court," his lawyer Prabhat Kumar said.
The special CBI court acquitted six of 22 accused in the case, including Jagannath Mishra, another former chief minister.
The BJP praised the verdict. "Conviction is conviction. Either 3.5 yrs or 7 yrs. Our charges against Lalu has been vindicated by Court (sic)," tweeted Bihar's deputy chief minister Sushil Kumar Modi.
The Congress said the ruling will not affect the alliance with Prasad's RJD. "The special court's judgement to convict and sentence Lalu Prasad will not have impact on forces fighting for secularism and social justice. Congress-RJD alliance will continue in Bihar," Bihar Pradesh Congress committee's acting president Kaukab Qadri said.
Prasad was sentenced for offences of cheating, along with criminal conspiracy, and other sections under the Indian Penal Code (IPC). He was also given a jail term of 3.5 years in the case under the anti-corruption law. The sentences will run concurrently.
This is the second fodder scam case in which Prasad has been convicted. He was convicted in September 2013 in a case of swindling Rs 37.70 crore from Chaibasa treasury and was given a sentence of five years. The ruling led to his disqualification from Parliament and a ban on contesting elections. He was given bail by the Supreme Court in December 2013.
Prasad is named in three more cases — illegal withdrawal of Rs 33.61 crore from Chaibasa treasury, Rs 3.97 crore from the Dumka treasury and Rs 184 crore from the Doranda treasury — in the fodder scam.
On Thursday, judge Singh said he had received several phone calls from "well-wishers" of the RJD chief. Prasad had also moved a petition on Friday for a lenient sentence, citing his health and jail conditions.
On Saturday, judge Singh gave the maximum punishment of seven years in jail to seven convicts, including former Janata Dal (United) parliamentarian Jagdish Sharma.
When one of the convicts, bureaucrat Subir Kumar Bhattacharya, requested for a leniency citing his ailing wife, the judge suggested he could be shifted to an open jail.
"You people have a vast experience of cattle rearing. You would enjoy open jail with your wife where you can feed the cattle with fodder. The government has invested huge money to construct these open jails, take benefit of this," he said. Bhattacharya withdrew his request after the judge's response.
(with inputs from Anirban Guha Roy and PTI in Patna)