Fog engulfing north India likely to dissipate after Nov 10
Nov 08, 2017 04:43 PM IST
The return of foggy days in the national capital triggered a blame game between the Centre and the Delhi government
The fog engulfing northern belt of India could dissipate in the next two to three days if surface level wind speeds pick up, according to experts.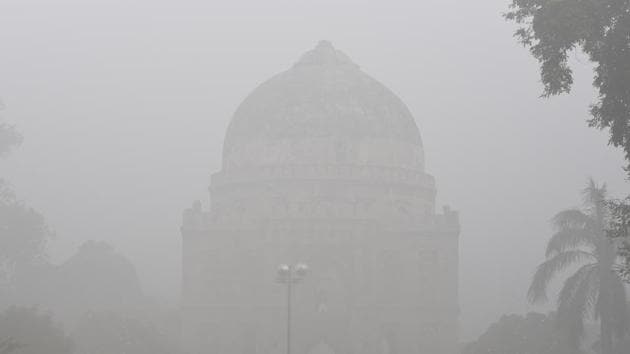 The India Meteorological Department expects the conditions to persist for the next two days. "An anti-cyclonic wind formation over the region has brought down surface wind speeds," said M Mohapatra, a scientist at the IMD.
"This phenomenon is likely to die down by November 10 and conditions will improve," he added.
On Tuesday, Mahesh Sharma, the minister of state for environment, blamed nature for the conditions prevalent in Delhi-NCR.
"Currently, Delhi and its neighbouring region are seeing almost still conditions at the ground level, but in the upper atmosphere there are two wind masses – one from Punjab, which is bringing pollutants from crop burning and the other from eastern UP, which is bringing moisture," A Sudhakar, member secretary at the Central Pollution Control Board, said.
"These are colliding at the higher altitude. This is leading to conditions where there is both moisture and pollution and no wind at the ground level," he said.
"The fog will clear almost completely if there is rainfall that is usually caused by the Western Disturbances in the winter," Mahesh Palawat at Skymet Weather Forecasting, said.
However, these are currently in the upper atmosphere and not influencing the weather conditions in the Indo-Gangetic plains.
The return of foggy days in Delhi and NCR triggered a blame game between the Centre and the state government with Delhi CM Arvind Kejriwal on Tuesday alleging that he wasn't given time to meet the Union environment minister, Harsh Vardhan, to discuss air pollution control measures.
Harsh Vardhan, who is currently in Bonn, Germany to attend climate talks, tweeted on Wednesday: "I recall we held several meetings with all the State Govts including Govt of Delhi and the measures required to deal effectively with the issue of air pollution have already been agreed upon and reviewed regularly at my level and highest levels in the concerned State Governments."
The south easterly winds were believed to have brought moisture from the Bay of Bengal, bringing rain to south India and moisture to the north.
"The Himalayan mountains create a barrier, valley-like conditions in the Indo Gangetic plains, that block the movement of air masses that carry particles," said Sachi Tripathi, a professor at IIT Kanpur.
Since meteorological conditions in the south peninsula and the northern belt were different, the emission standards should be different too and the whole region should have a separate body to implement measures across states.
Short-term measures focused on Delhi will not work, said Tripathi and other experts.