Mehbooba Mufti: An abrupt end to tumultuous tenure as Jammu and Kashmir CM
Hindustan Times, Srinagar |
Mir Ehsan
Jun 20, 2018 07:16 AM IST
Mehbooba Mufti's bumpy journey as Jammu and Kashmir chief minister ended on Tuesday with alliance partner BJP unexpectedly calling time on a rocky relationship
When Mehbooba Mufti took oath in April 2016, she became the state's first woman chief minister and one of India's most powerful women. She was sworn in almost three months after her father and predecessor Mufti Mohammad Sayeed died, taking over after weeks of indecision and amid apprehensions that the Peoples Democratic Party (PDP) that he founded would split, with legislators deserting it.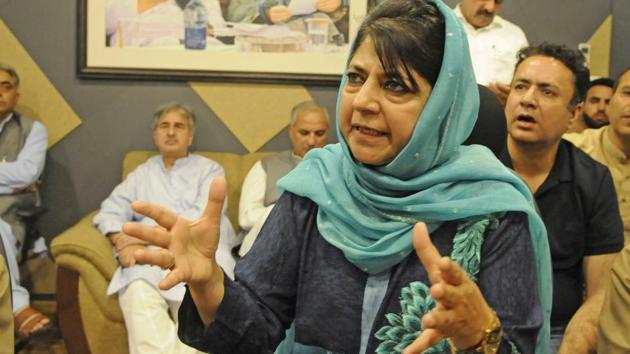 Mehbooba managed to gain control over the PDP, strengthening her position mainly by bringing many relatives into the party. She even inducted her cinematographer brother Tasaduq Mufti into politics and appointed him the state's tourism minister. As Mehbooba Mufti, 59, resigned on Tuesday after the BJP put an end to their difficult relationship, her big challenge once again is keeping her flock together and preventing defections from the PDP.
Her journey as chief minister at the head of a government that included the BJP, a party with deep ideological differences with her own on key issues, was bumpy. The PDP pressed for dialogue with separatists, the BJP backed a stringent policy against separatism.
Mehbooba Mufti's biggest test came months after she took over the top post, when 21-year-old Hizbul Mujahideen militant Burhan Wani was killed by security forces in south Kashmir's Bumdoora. Amid violent protests and a five-month-long shutdown in the Kashmir Valley that followed, there were calls for the chief minister's resignation. Some from her own cabinet colleagues, who demanded that she break the PDP's alliance with the BJP, afraid of losing support in the party's core constituency south Kashmir, where it won most of its 28 assembly seats.
Accused of fetching no benefit for Kashmir through her partnership with the BJP, which leads the central government, Mehbooba attributed the withdrawal of cases of stone-pelting against more than 10,000 youth and more than 60,000 daily wage workers being given regular employment to support from the Centre. But she made little headway with a list of demands, including failing to convince the BJP leadership to initiate dialogue with Pakistan and separatists.
She attempted to sell last year's appointment of former Intelligence Bureau chief Dineshwar Sharma as an interlocutor and this year's suspension of military operations during the month of Ramzan as big political achievements. She was taken aback when the suspension wasn't extended, and the Centre announced on Sunday that operations will be resumed.
This morning, the chief minister was signing files at the civil secretariat when she was told that the BJP had decided to pull out of the government. She called some ministers to her office, and, after a brief meeting, left for her official residence.
Addressing a press conference after handing over her resignation to the state governor this evening, Mehbooba Mufti said: "We cobbled the alliance thinking that we can get Jammu and Kashmir out of the mess by shaking hands with a big and powerful party at the Centre. The basic motive for this was reconciliation, dialogue with people, confidence-building measures and good relations with Pakistan. The biggest apprehension at the time was about our special status or article 370 and 35 A. We defended 35 A in court and defended 370 too."
"Besides the confidence-building measures, we withdrew cases against 11,000 youngsters, we managed a unilateral ceasefire, and (ensured) an offer of dialogue by none other than the home minister," she added.
The PDP has 28 seats in the 87-member Jammu and Kashmir assembly. A party needs 44 legislators to form the government. In 2015, when Mufti Mohammad Sayeed said yes to the BJP, the second-largest party with 25 seats, rivals had predicted a quick end to the partnership between the ideological opposites. They celebrated the break-up today with an "I told you so".