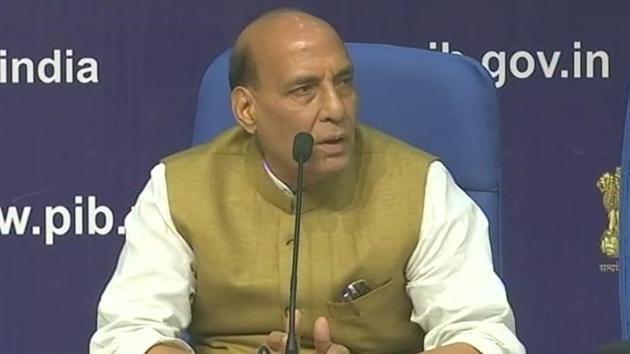 India picks ex-intel chief Dineshwar Sharma to lead Kashmir talks
Rajnath Singh said Sharma will open talks with elected representatives of Jammu and Kashmir, political parties and other organisations.
Hindustan Times, New Delhi | By Azaan Javaid & Harinder Baweja
UPDATED ON OCT 24, 2017 05:26 PM IST
A former head of the country's domestic spy agency will lead talks to end the nearly three-decade-long, bloody insurgency in Kashmir, the government announced on Monday.
Home minister Rajnath Singh said Dineshwar Sharma, 63, who retired as the Intelligence Bureau director in December, will speak to "all stakeholders", as well as decide on whether to talk to the hardline separatist group, the Hurriyat Conference.
"For a substantive dialogue, I will need to talk to everybody,'' Sharma told Hindustan Times. "Peace must be restored in Kashmir and for that I will talk to all people in an effort to bring about a solution."
The talks offer stems from Prime Minister Narendra Modi's last Independence Day outreach to troubled Kashmir. Modi had said the region's problems could be solved by embracing its people rather than resorting to abuse or bullets.
Modi's comments were seen as a possible shift in his policy towards Kashmir, where the government has been pursuing a tough line against a surge in violence that has killed about 100 people over the past year.
Sharma said he will visit Kashmir in about a week. A 1979 batch IPS officer, Sharma will submit a report to the government but no deadline was given. Multiple government sources said Monday's announcement was preceded by "a lot of homework", including informal talks with separatists.
The sources told Hindustan Times that Sharma was called in for a meeting attended by National Security Adviser Ajit Doval and Singh on Monday.
Monday's announcement is the latest in a series of efforts to end an insurgency that has killed more than 40,000 people since violence broke out against Indian rule in the region in 1989.
Past efforts at peace have yielded precious little. Prime Minister Atal Bihari Vajpayee's government was the first to hold talks with Kashmiri separatists in 2004 but the effort fizzled out after his government was voted out of power.
In 2010, Prime Minister Manmohan Singh renewed those efforts, setting set up a panel of interlocutors to speak to various stakeholders, including the Hurriyat leaders. The panel, however, did not meet the separatist leader and its report was never made public.
The Hurriyat is an umbrella group of political and religious groups fighting mostly for Kashmir's independence from India. None of its leaders had yet reacted to the move.
Kashmir has remained largely paralysed since July last year when government forces shot dead a young militant leader, Burhan Wani, touching off months of deadly street protests.
Most political parties cautiously welcomed the move.
"Dialogue is a necessity of the hour and the only way to go forward," Jammu and Kashmir chief minister Mehbooba Mufti tweeted.
Her rival and opposition National Conference leader, Omar Abdullah, tweeted: "...Will keep an open mind & wait to see results of the dialogue process."
Congress spokesperson Manish Tewari said the move indicates that realists in government have prevailed over hawks. "Hard power is not an end but means towards an end," he added.
Former home minister P Chidambaram tweeted, "With appointment of interlocutor, I hope government has finally admitted 'muscular approach' has failed in J&K."
(Story updated on October 24, 2017 to remove the error that Dineshwar Sharma was CRPF inspector general in Kashmir)
Close