Former Tripura CM Manik Sarkar asks for govt bungalow and vehicle as oppn leader
Published on Apr 18, 2018 03:49 PM IST
Manik Sarkar who had been Tripura's chief minister for 20 years, does not own a house in Agartala.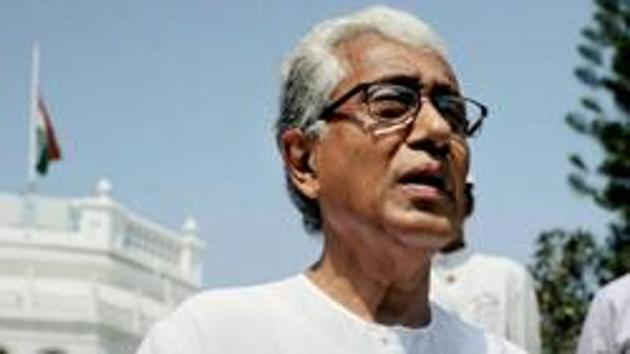 Hindustan Times, Agartala |
Priyanka Deb Barman
Former chief minister and now leader of opposition in Tripura Assembly Manik Sarkar is likely to get government accommodation and a vehicle after he sought the same from the government.
He has been staying at the CPI(M) party office since the BJP government took over about a month ago.
Sarkar, who ruled the state for 20 years, had moved to CPI(M) party office with his wife Panchali Bhattacharya on March 8, a day before oath-taking ceremony of the new BJP-IPFT government as he did not have a home in Agartala.
In a letter, to Tripura legislative assembly secretary Bamdeb Majumder last week, Sarkar sought government accommodation near the chief minister's official residence and a vehicle according to his entitlement as leader of opposition in the assembly.
Majumder confirmed receiving the letter in which he has sought government home. "Sarkar verbally requested to allot him either an Innova or Scorpio as he is not physically fit to travel in an Ambassador car," Majumder said, adding that a Bolero jeep was given to him after the request was received.
But Sarkar did not accept the Bolero, which was about five years old and had been driven 1.25 lakh km. The former CM who is in Hyderabad to attend the CPM's party congress which begins on Wednesday, could not be reached for comments as he doesn't carry a mobile phone.
CPM state secretary Bijan Dhar said that Sarkar has asked for a large vehicle to travel to different parts of the state as he could not ride in an Ambassador due to his physical problem.
Dhar said Sarkar had told him that he could take the Innova belonging to CPM party office if the BJP government cannot provide him the vehicle. "Being a leader of opposition, Manik Sarkar is supposed to get required privileges and facilities like accommodation and vehicle. He had specified the vehicle verbally due to his physical problem," Dhar said.
But the BJP took pot shots at Sarkar, saying he has turned a 'bourgeoisie.'
"Sarkar had rejected a vehicle allotted to him for his movement and specified a particular brand of SUV. It shows that though he was known as the poorest chief minister of the country, he leads a luxurious lifestyle. His demands proved the point," BJP spokesperson Subrata Chakraborty said without elaborating how the demand for a particular vehicle because of Sarkar's health problem means he indulges in luxury.
Chief Minister Biplab Kumar Deb is scheduled to move into his official residence Wednesday. The lane that leads to chief minister and other cabinet ministers' official residences was renamed after Dr. Shyama Prasad Mookherjee after removing the 15-yeard old name 'Marx Engel Sarani.'
Topics
Close Story
Personalise your news feed. Follow trending topics