'Who can afford…except filthy rich?' Jairam Ramesh slams Centre over Ganga Vilas
Jan 16, 2023 08:23 PM IST
The Congress leader also slammed Centre for reportedly threatening the habitat of the endangered Ganga dolphins by starting the river cruise.
Congress leader Jairam Ramesh on Monday criticised the luxurious Ganga Vilas river cruise, calling it "obscene" and criticised the Centre for damaging the ecosystem and charging such a high price for it.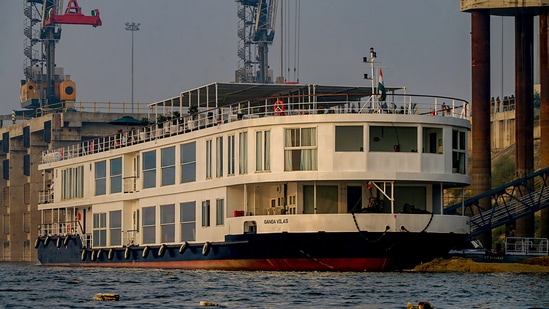 While sharing a news article, the Congress leader tweeted, "The river cruise on the Ganga unveiled by the PM is obscene! Who can afford Rs. 50 lakh (later corrected as ₹50,000) per night except the filthy rich?"
"Ganga is still neither Nirmal (pure) nor Aviral (uninterrupted). Now this Tamasha will also endanger India's national aquatic mammal — the Gangetic dolphin," Ramesh said. The article he shared talked about how environmentalists and conservationists think the luxury river cruise could be a threat to the endangered species of the Ganges.
Also read | 'Bar on cruise…on holy river Ganga': Akhilesh Yadav's claim & swipe at BJP
The attack comes at a time when the maiden trip of the MV Ganga Vilas cruise, on its third day, allegedly got stuck in the shallow waters of river Ganga in Bihar's Chhapra, according to news agency ANI.
However, the Centre denied the claims saying the vessel did not get stuck and has reached Patna as per schedule. "The Ganga Villas reached Patna as per schedule. There is absolutely no truth in the news that the vessel is stuck in Chhapra. The vessel will continue its onwards journey as per schedule," said Sanjay Bandopadhyaya, chairman, Inland Waterways Authority of India (IWAI).
MV Ganga Vilas – pitched as the longest river cruise in the world – traverses through river Ganga for 51 days, spanning through five Indian states and Bangladesh. The cruise was inaugurated in Varanasi by Prime Minister Narendra Modi on Friday last week. It is expected to reach Dibrugarh in Assam, its last destination, on March 1.