Goa's Manohar Parrikar a quintessential swayamsevak, was once reluctant to join politics
Manohar Parrikar joined the Sangh during his final years of schooling. During his years at IIT Mumbai, he came in contact with Seshadri Chari, who was then in-charge of students at the premier engineering institute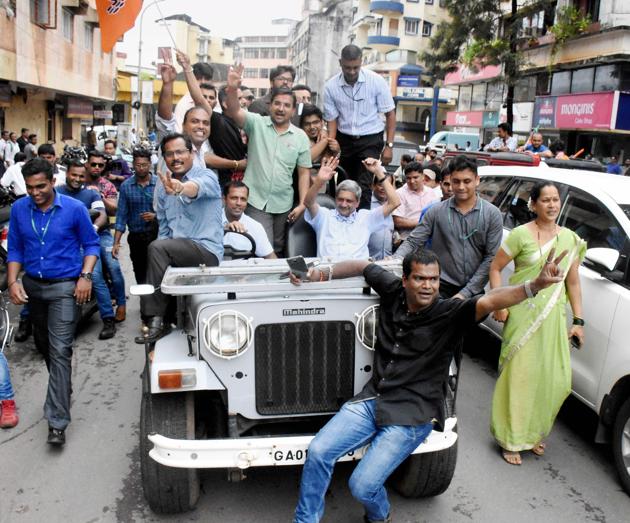 Updated on Mar 18, 2019 12:08 AM IST
Four-time Goa chief minister and former defence minister Manohar Parrikar's colleagues in the Rashtriya Swayamsevak Sangh (RSS) described him as a quintessential swayamsevak (volunteer). On Sunday night as news of this demise broke, colleagues in the Sangh paid tributes to the disciplined, unassuming Goan, who thought nothing of his political achievements or the high office that he occupied.
Parrikar joined the Sangh during his final years of schooling. During his years at Indian Institute of Technology, Mumbai, he came in contact with Seshadri Chari, who was then incharge of students at the premier engineering institute. Chari said he joined the Sangh as a full-time worker for a year after getting his degree and was posted to Mumbai's Mapusa. "He became a sanghchalak [local director] for a year and then moved back to Goa where he started his enterprise. He was sent by the Sangh to the Bharatiya Janata Party [BJP] along with Shripad Naik, when they felt the need to induct some new faces into the party," Chari said.
Chari, a former editor of the Organiser, said Parrikar initially had qualms about joining politics. "He had apprehensions about politics. He was concerned that he might have to take decisions that his conscience would not permit. He was squeaky clean," Chari said. Parrikar always wore his Sangh credentials on his sleeve; acknowledging the organisation's role in instilling discipline, nationalism and social concern in him, said another Sangh functionary who did not wish to be quoted.
Chari said he had no compunction in saying Parrikar was a prototypical swayamsevak. "His image of simple, unpretentious man was not cultivated; that is who he was," said Chari.
Close Story