Congress in Gujarat loses another MLA, taking tally to 6, ahead of RS poll
Jul 28, 2017 05:03 PM IST
Three other MLAs Balwantsinh Rajput, Dr Tejshree Patel and Prahlad Patel resigned from the Congress and joined BJP on Thursday,
Hours after Gujarat Congress legislators Mansinh Chauhan and Channa Chaudhary quit the party, their colleague and veteran leader Ramsinh Parmar also resigned from his post on Friday dealing another blow to the grand old party ahead of the August 8 Rajya Sabha elections.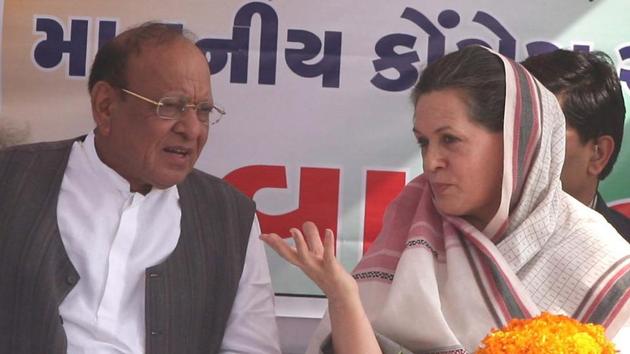 Parmar quit the Congress after two MLAs – Chhanabhai Chaudhary, MLA from Vansda constituency, and Mansinh Chauhan from Balasinor – submitted their resignations to Speaker Ramanlal Vora earlier in the day.
"I will not join BJP, though," Parmar, from Thasra constituency and chairperson of the prestigious Amul Dairy, was quoted as saying by news agency IANS.
The resignations spell trouble for Ahmed Patel, Congress president Sonia Gandhi's political secretary, who has filed papers seeking a fifth term in the Rajya Sabha from Gujarat. With Chauhan quitting, the Congress has lost six legislators in so far.
The developments come a day after three legislators resigned from the party and joined the Bharatiya Janata Party (BJP). On Thursday, Congress chief whip and MLA from Siddhpur Balwantsinh Rajput, Tejashree Patel from Viramgam, and Vijapur legislator PI Patel submitted their resignations.
Within minutes of their joining the BJP, Rajput was named the saffron party's third Rajya Sabha candidate. BJP chief Amit Shah and Union minister Smriti Irani are the other two candidates fielded by the party.
IANS cited unnamed sources as saying that CK Raolji, another MLA known to be very close to rebel leader Shankersinh Vaghela, is also likely to resign. Another senior legislator Raghavji Patel on Friday said he was preparing to follow suit along with five others, the news agency reported.
"I also want to go to the BJP and there are five others who are also preparing for it," IANS quoted Raghavji Patel, a legislator from Jamnagar (rural) constituency in Saurashtra, as saying. "We are frustrated. Nobody listened to our voice and took note of our aspirations," the veteran leader added.
Chaudhary and Chauhan have not joined the BJP.
Raghavji Patel, Chaudhary and Chauhan are all believed to be close to rebel leader Vaghela, who quit as Leader of Opposition on July 21, alleging that there was an intraparty conspiracy to oust him from the Congress.
Ahmed Patel will now need at least 46 votes of the 51 Congress MLAs. There are 176 MLAs left in the Gujarat assembly after the six Congress lawmakers' resignation.
Between Shah and Irani, the BJP will need 92 votes. Given, the BJP has at present 121 MLAs, the party will have 29 votes in spare.
The cross-voting in presidential poll revealed that Congress was losing 11 of its MLAs.
The BJP has fielded candidates for all three seats that are up for the grab as it believes it has the support of the other six Congress MLAs, who cross-voted in the presidential polls. But, for that, it will require an additional six votes to ensure the win for its third candidate.
On the other hand, if these six MLAs again indulge in cross-voting, Ahmed Patel will have to depend on 46 Congress votes, two Nationalist Congress Party votes and the vote of BJP rebel MLA Nalin Kotadia.
Chottu Vasava, a lone Janata Dal(United) MLA who refrained from voting in the presidential polls, is expected to vote for the saffron party after the BJP-JD(U) alliance came to power in Bihar on Thursday.
Besides, both the NCP MLAs were also seen by side of Vaghela on July 21 event when veteran leader announced his resignation as Congress Legislative Party Leader.
(With inputs from IANS)