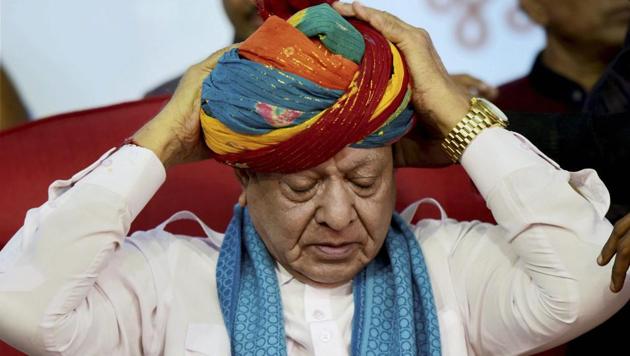 Shankersinh Vaghela quits Congress claiming conspiracy to expel him, says will not join BJP
Senior Gujarat politician Shankersinh Vaghela's rebellion is a big setback for the Congress ahead of state elections later this year.
UPDATED ON JUL 21, 2017 05:32 PM IST
Former Gujarat chief minister Shankarsinh Vaghela on Friday said he had quit Congress, just after claiming that he had been thrown out of the party "24 hours ago" and attended a public rally marking his 77th birthday sporting a saffron scarf.
The Gujarat Congress party leader, however, stressed he was not going to join the BJP.
Addressing the gathering, Vaghela also said he will resign as Leader of Opposition in the state Assembly and quit as MLA after the Rajya Sabha election on August 8.
He claimed he was a victim of intra-party conspiracy, due to which the party had shown him the door.
The Congress denied Vaghela was removed. "No action was taken against Shankersingh Vaghelaji nor was he expelled.These are baseless arguments.Its his decision," said Congress spokesperson Randeep Singh Surjewala.
"Vaghelaji wanted to replace the current Gujarat Congress chief. A party is always bigger than individuals," he said.
At his birthday celebrations in Ahmedabad, Vaghela was joined by a large number of Congress leaders and workers. This, despite the party's instructions against siding with the senior politician.
"Congress party ne mujhe 24 ghante pehle nikal diya yeh soch ke ki pata nahi main kya kehta (The Congress threw me out of the party 24 hours ago as they were worried what I may say)," Vaghela told his supporters.
"Rebellion is in my blood. I'm on 77 not out," he said.
Vaghela said the party did not even wait to hear what he would say at Friday's event before taking the decision to throw him out and termed it a case of "vinashkale vipareet budhdhi".
"There was a conspiracy to get me expelled. I told Rahul Gandhi about this, he said this must be to accommodate someone else.
"I had told Soniaji mein aapka bharosa nahi todunga (I will not break your trust). I went to meet her, told her thanks a lot Madam for everything. I may not remain with the party after sometime but don't worry I am not going anywhere. I am not joining BJP," Vaghela said.
His claim raised speculations over the possibility of his joining the BJP. Eleven of the 57 Congress MLAs from Gujarat cross-voted in favour of NDA candidate Ram Nath Kovind in the presidential elections.
The senior leader's rebellion comes ahead of assembly elections in the state where it has been out of power for decades.
Vaghela did not state whether he was suspended or expelled from the Congress.
Sources said just before attending the meeting, Vaghela ditched the commonly used scarf by Congress leaders and sported a saffron one, associated with the BJP.
On Thursday evening, the Gujarat Congress issued a warning to Vaghela not to "play any politics" under the guise of his birthday celebrations with his supporters and legislators. He was also told that his public utterances would not be tolerated by the party any further.
The maverick Vaghela, who had snapped ties with the Bharatiya Janata Party in the late nineties to set up his own party that later merged with the Congress, has been telling the party high command to hand over reins of the December election battle to him.
(With IANS inputs)
Close