Gujjars block Delhi-Mumbai route, say it's a do-or-die battle for 5% quota
Gujjar leader Kirori Singh Bainsla after holding a 'Maha Panchayat' at Malarna Dungar in Sawai Madhopur district, started the sit-in along with his supporters, blocking trains.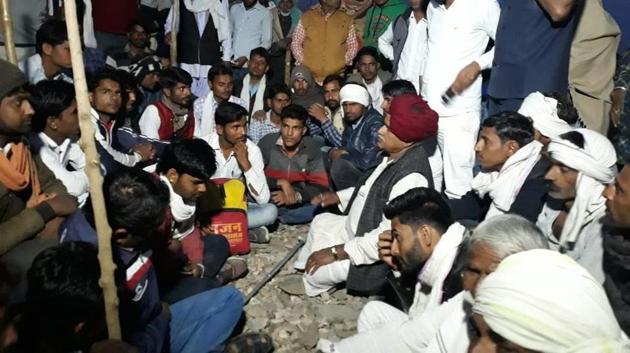 Updated on Feb 08, 2019 09:35 PM IST
Jaipur |
HT Correspondent
Hundreds of Gujjars sat on the tracks near Malarna Dungar railway station, blocking the Delhi-Mumbai railway route on Friday evening to demand 5% reservation in education and jobs. The stir affected rail traffic: seven trains were diverted, four partially cancelled and two trains were kept on hold at Sawai Madhopur railway station, said an official of the Kota rail division.
The state government has constituted a ministerial panel to hold dialogue with the Gujjars but chief minister Ashok Gehlot said there was nothing that the state could do for the demand. "Any decision on SBC (special backward classes) quota could be taken by the central government only," he said. IAS officer Niraj K Pawan was sent to the agitation site to talk to the agitators.
Earlier, Gujjar Arakshan Sangarsh Samiti chief Colonel Kirodi Singh Bainsla had given a 20-day ultimatum to the state government to take decision on their reservation demand. The ultimatum ended today at 4pm.
Following a community mahapanchayat (mass gathering) at Maksudanpura village, Bainsla along with hundreds of supporters walked to the railway track and laid siege to it around 5.30pm.
"I have not come here but the crowd has brought me on railway track. People cannot be befooled all the time. It is a do-or-die battle. State government should fulfill its promise. It will be a peaceful protest," said Bainsla.
He said the Congress promised reservation to the community in its manifesto and it was time for the government to keep its word. "We want 5% reservation and I do not know how they are going to give that to us," he said.
Bainsla urged the agitators to be disciplined, peaceful and not damage public property.
Gujjars are demanding 5% reservation under the special backward classes (SBC) category in education and jobs. After a similar agitation in 2007 and 2008, the state government gave them this quota but the bills were later stayed by Rajasthan high court.
Currently, the pastoral community, that comprises roughly 5% of state's population, gets 1% reservation under the Most Backward Class (MBC) category apart from getting benefit of the OBC reservation.
Reservation in Rajasthan is 49% -- 16% to SC, 12% to ST and 21% to OBCs. There's a 50% ceiling on reservation on the basis of caste. Earlier attempts by state government to provide the Gujjars (and three other communities) 5% reservation fell flat because that exceeded the 50% limit.
Kota rail division senior divisional commercial manager Vijay Prakash said the Delhi-Mumbai railway track was blocked due to Gujjar agitation today. Gujjars have occupied railway tracks between Nimoda and Malarna railway stations in Sawai Madhopur district, he added.
Two passenger trains -- Awadh Express and Sampark Kranti Express -- have been kept on hold at Sawai Madhopur. He added that train schedules and routes will be decided later after further updates on Gujjar stir.
North Western Railway chief public relation officer Abhay Sharma said comprehensive security plan has been put in place by Railway Protection Force and NWR. He said patrolling of sensitive sectors has been increased.
He said that additional companies of RPF and Railway Protection Special Force have been deployed at Jaipur and Ajmer rail division. "We are in constant touch and coordination with the state police department for up to date information on crowd movement and potential threat to railway property and train movement," Sharma added.
Bharatpur divisional commissioner Chandra Sekhar Mootha said all police and administrative officials have been directed to be on alert. The administration will maintain law and order.
Government has formed a ministerial panel to hold talks with Gujjars. The panel includes tourism minister Vishvendra Singh, health minister Raghu Sharma and social justice and empowerment minister Bhanwal Lal Meghwal.
Close Story
Personalise your news feed. Follow trending topics