Hard battle to put an end to virginity tests within the Kanjarbhat community
Hindustan Times |
Gayatri Jayaraman
Jan 17, 2018 09:11 AM IST
Within the Kanjarbhat community, a de-notified tribe or vimukta jati, the rift caused by an increasingly vocal battle over virginity tests is pitting youngster against elder
Within the Kanjarbhat community, a de-notified tribe or vimukta jati, the rift caused by an increasingly vocal battle over virginity tests is pitting youngster against elder, grandfather against granddaughter, uncle against niece, and daughter-in-law against father-in-law.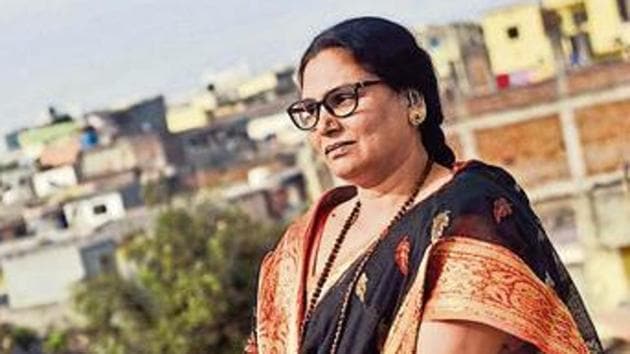 The mobilisation began when Vivek Tamaichekar, a Master's student at the Tata Institute of Social Sciences, Mumbai got engaged to Aishwarya Bhat in 2016. Both are members of the Kanjarbhat tribe. When it hit the couple that the bride would be subject to the age-old practice of validating the marriage through a virginity test, they were up in arms.
Stay tuned with breaking news on HT Channel on Facebook.
Join Now
Together they form a group that holds multi-city meetings and galvanises youth to break away from the practice. While the young are eager for change, the old are shaken by their rebelliousness. As the battle gains pace, young Kanjarbhat women are reporting in to Shakuntala Bhat, head of the Maharashtra women's chapter of the All India Kanjarbhat Association, that young men in schools and colleges are waving white handkerchiefs stained with drops of red ink at them. Embarrassed elders have been reaching out to the protesting youth to talk. The youth say change has been a long time coming.
Krishna Indrekar, now a 51-year-old director of finance in the Maharashtra State Charity Commission, stood up against the hold of the panchayat when he married Aruna in 1986. Studying political science in college, Indrekar was influenced by the writings of BR Ambedkar and Jyotiba Phule. Betrothed to Aruna, he refused to marry her until he was settled professionally. Aruna waited for him for eight years, an unheard-of practice that even led the community elders to issue threats. In the days without mobile phones and emails, in a village near Kolhapur, all Aruna had to go on were messages he would send once or twice a year. Indrekar got the job as an officer with the state government in his final year of his Master's in political science at Pune University, and promptly tied the knot with Aruna in a court marriage, eschewing panchayat diktats. Ever since, the couple has been a beacon of support for other members of the community trying to break the chokehold of the panchayats. Indrekar filed a complaint against a virginity test held after the wedding of his niece, Ashwini Tamaichikar, on November 23, 2017, and at another community wedding on December 24, 2017. FIRs are not registered despite his complaints, and his video recordings of outlawed proceedings, he says. But he perseveres.
This is how virginity was, and continues to be 'tested'. Traditionally, weddings were consummated in a tent made of tarpaulin with Panchs or elders standing outside till intercourse was completed. Today, this takes place in a sanitised hotel room after all glass bangles are removed from the bride, sharp objects from the room, and anything that is capable of piercing the skin and drawing blood. A white sheet is spread on the bed, on which the elders (now from the family) wait to see if there are drops of blood.
The groom is asked degrading questions by the panchayat of elders, say Tamaichikar and Indrekar. "How was the maal (the goods)?" or "Was the performance good?" "Was the glass broken?" If blood is not drawn, the hymen is assumed ruptured due to previous sexual intercourse. Purification rituals are prescribed. It is rare that a girl is believed if she claims to have had no previous relationship and if the hymen has been ruptured out of natural causes. Tamaichikar has been going from elder to elder, confronting them and urging them to change the practice.
Marriages are the new battleground because it is through them that tribal integrity has been preserved and passed down. While the tribe's codes are oral, they were laid down in print by the Akhil Bharatiya Sahansmal Kanjarbhat Samaj Sangh at the jat panchayat's Shirdi chapter in 2000. The booklet has been a de-facto tribal constitution in circulation ever since. Outlawed since July 2017, the panchayats no longer openly assemble, but it will take time for their notional control to dissipate.
Pune-based Bablu Tamaichkar, a former Panch (elder or chieftain), insists that traditional practices outlined in the booklet have now been discontinued. "But, naturally, people within the community reach out to elders to solve disputes, arrange marriages and settle matters. At such times the elders intervene but nothing unconstitutional is undertaken," he adds. The booklet also serves as a guideline for rites and ceremonies -- customs which differ from, and are in danger of being replaced by, universalised Brahminical practices. As these rituals are conducted by community elders, they are what validate a marriage. The use of wooden planks, the sacred pouring of arrack, and payments to the elders, gurus and the motherland, conducted in the local Kanjiri dialect, and the use of animal sacrifice as 'shuddhikaran' or purification rituals for women who 'fail' virginity tests, hark back to darker times.
Kavichand Bhat, a Kanjarbhat elder and former Panch, has been former mayor of Pimpri Chinchwad, and a local Congress leader for over 50 years. He is also Aishwarya Bhat's grandfather. A septuagenarian, he recalls the days of his tribe in pre-Independent India. "We roamed from village to village in search of food, we had no homes. My wife is une- ducated, my children have one degree and my grandchildren have two degrees (postgraduates)," he says. Change has been slow to arrive, but it is welcome. "We remember what untouchability is, we have even been turned away from grocery stores. This generation is educated but they have not seen the days when we could not go to schools to learn, and to courts to solve our problems."
Until Ambedkar appeared on the scene, he says, there was simply no room for tribes to redress issues in the "courts of the upper classes". Today, tribesmen like him have risen to positions of power -- mayor, deputy commissioner of police, doctor, lawyer.
But it's not easy for many to forget the past. "People think that when the law changes, everyone will become Ambedkar. It doesn't work that way. Some have only known the protection of the community," he says. Kavichand was arrested in 2015, along with other members of the jat panchayat, for enforcing the social ostracism of a young couple who married outside clan stipulations.
Shakuntala, daughter-in-law of Pune advocate Murchand Bhat, a supporter of tribal systems, is caught in the middle. She takes pride in being a Kanjarbhat woman who has just become a scientist.
" As a woman, I do see the virginity test as regressive. But today, the next generation is going places, so yes, we need to change, but the manner needs to be more cohesive. We need to talk," she says.
But Vivek Tamaichikar is done talking. He says the invitation to talk is just a pretence to pressurise women from joining the fight against the practice. "At first I thought this would be easy. After all, when you sit down and speak to people you realise that almost everybody agrees that this is regressive ," he says. But that doesn't translate into throwing off the burden of living up to community diktats. "Most people agree but fear being ostracised by the community."
What this translates into for most people is a lack of matrimonial alliances for their children, fewer invites to weddings, no access facilities like wells, or the withdrawal of counsel and arbitration during family or property disputes. In other words, being cut off from their own -- by their own.