Hardline Hindu outfit in Bengal looks to eat into Sangh's gains
Updated on Sep 17, 2017 08:35 AM IST
Hindu Samhati (HS) has started gaining prominence in the communally-charged politics in Bengal by projecting itself as the 'real protector' of Hindus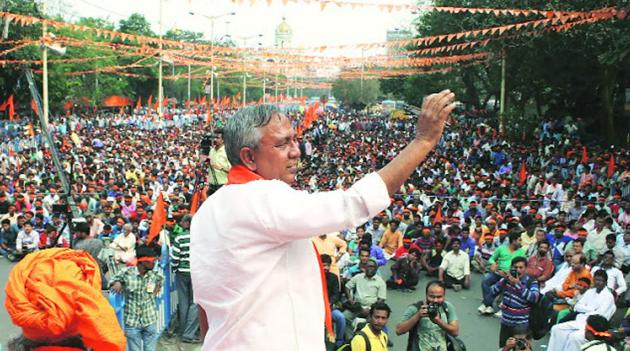 At a time when the BJP and the RSS were gearing up to take on West Bengal's 'secular and liberal camp', a newly-formed saffron outfit has threatened to eat into the right-wing faction's electoral gains.
Formed in 2008, the Hindu Samhati (HS) has started gaining prominence in the communally-charged politics of state by projecting itself as the 'real protector' of Hindus. Be it the violence-hit Malda or Basirhat, HS members appeared to be more active in 'safeguarding' Hindus' interests as compared to their Sangh Parivar counterparts.
"In West Bengal, the BJP and RSS are out to reap benefits of Hindus' sentiments but are not ready to pay for it. All they do for the Hindus is lip-service. We are spoiling their plan of portraying BJP as the sole custodian of the rights of Hindus. That is why the RSS and BJP are our biggest critics," said former RSS pracharak and HS founder Tapan Ghosh.
He had served as the Bajrang Dal's coordinator in different parts of the country but parted ways in 2007, accusing Bengal RSS of 'lacking courage'.
Ghosh has in the past opined that the Hindus need to be 'more militant' in order to resist what he called 'Islamic and Christian aggression' in the country.
The police and intelligence agencies kept a close watch on HS members, claiming that the group's activists were involved in violent activities.
HS vice-president Devdutta Maji denied that the outfit was involved in any illegal activities but boasted that they had "managed to instil courage in members of Hindu community, which is the need of the hour".
"There are Hindus displeased with Mamata Banerjee's Muslim appeasement but are happy with other aspects of her governance, or do not see BJP as an alternative. We provide a platform to Hindus from all political camps," he added.
Ghosh had been a strong critic of Banerjee's 'politics of Muslim appeasement' but softened his stand against her since 2014, when BJP and RSS started gaining ground in Bengal.
"If Hindus can bargain more from Mamata , why should Hindus support BJP unconditionally? Our role is to bargain for Hindus from politicians, just like Muslims bargain for their community," Ghosh said.
Trinamool Congress denies having any link with HS but that hasn't stopped the CPI(M) from hinting towards an alleged tie-up between the two.
"We found during spot visits that many of those involved in recent riots were TMC workers by day and Hindu Samhati activists by night," CPI(M) MP and politburo member Mohammad Salim told HT. He described HS as Trinamool's 'Hindutva card' which the party used to balance the backlash of 'supporting Muslim fundamentalists'.