How Eman, the 500kg Egyptian woman, will lose weight after surgery in India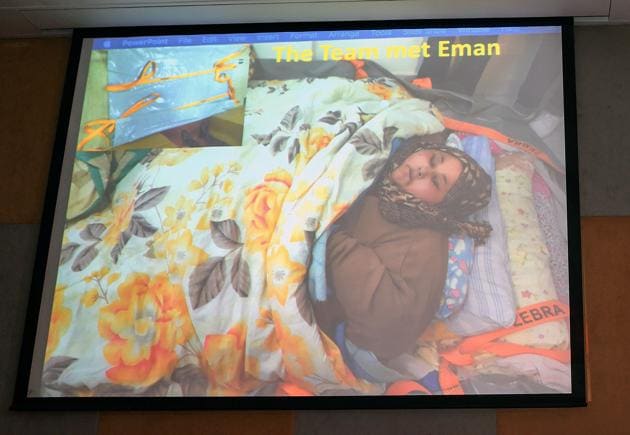 Updated on Feb 14, 2017 05:59 PM IST
The world's heaviest woman Eman Ahmed Abd El Aty , 36, who weighs close to 500kg, arrived in Mumbai on Saturday to undergo a lifesaving bariatric surgery next month for rapid weight loss.
She journey from her hometown Alexandria in northern Egypt wasn't easy. Eman, who is too obese to move and hasn't left her room in 25 years, took a special cargo plane, a truck and a crane to reach Mumbai's Saifee Hospital, where the surgery will take place next month.
Bariatric surgeon Dr Muffazal Lakdawala, chairperson of Institute of minimal access surgical sciences and research centre, Saifee Hospital, speaks to HT on Eman's surgery and her life before and after surgery.
What is Eman's weight?
She weighed 498 kg when they weighed her using an industrial scale 15 days ago at home in Alexandria.
Emam is wider than she is high – she's is almost 5 feet wide, measuring 151 cm wide (59.5 in, 4.95 ft) and 141 cm tall (55.5 in; 4.6 ft) – and hasn't been able to even crawl for more than three years.
How did you decide to operate on Eman?
He sister Shaimaa Ahmed wrote to me six months ago and asked for help. She had reached out to doctors around the world on social media a year ago but did not get a great response of the risks involved because of Eman's excess weight. She searched online and wrote to me, and I felt we had to help her.
Her body mass index (BMI) is 252 -- an indicator of healthy weight calculated by dividing your weight (in kg) by your height squared (in metres) -- when a healthy BMI is 23 or less.
Read | Size matters: When weight loss surgery is a necessity
When is surgery planned for?
She's being prepared for surgery, which will be done in about a month from now. She's on a special high-protein diet at home before she came here, as a result of which she lost about 25kg in two weeks. Now that she's in Mumbai, we will but her on a supervised high-protein low-carb ketogenic-like diet that will force her body to burn fat instead of carbohydrates while also helping the kidneys to push out excess fluids collected in her subcutaneous tissue and skin.
Eman should – she will be close monitored, of course -- lose 1.5-2kg a day, so we hope to bring her weight actively down by 70-80 kg before the surgery.
How did she end up putting on so much weight?
She was an overweight child, which made it difficult for her to move and led to her packing in more kilos. Eman hasn't walked in more than two decades, she could crawl around a bit till about three years ago, but after what doctors suspected was a stoke, she's been immobile and stayed in bed.
Is a medical condition the cause of her excess weight?
We don't know, we have to study that. Doctors in Egypt incorrectly diagnosed her as having elephantiasis (a parasite infection that affects the lymphatic vessels and leads to water retention in the legs and other parts of the body), which she doesn't have.
She has obesity-related diseases such as type 2 diabetes, hypertension, hypothyroidism, obstructive lung disease and gout.
A few years ago, she was diagnosed with stoke. Though the movement in her right side is less, she is not paralysed. movement issues may be because of her morbid obesity. We hope to restore full movement after she's lost weight after surgery.
What has been the biggest challenge so far?
Moving her from Egypt to India needed some doing. To prepare her for the flight, she was physically prepared to optimise the conditions for her travel. Travel raises the risk of pulmonary embolism (a blood clot in the lungs), which could have killed her, so she was put on painkillers and a diet that helped her lose around 25kg.
She had trouble getting a visa because she could not go to the Indian Embassy in Cairo for biometrics (fingerprinting) and visa officials had a hard time believing she had not moved out of home in more than two decades.
My twitter appeal to Sushma Swaraj got an immediate response and she ensured Eman got a medical visa within two days.
Close Story