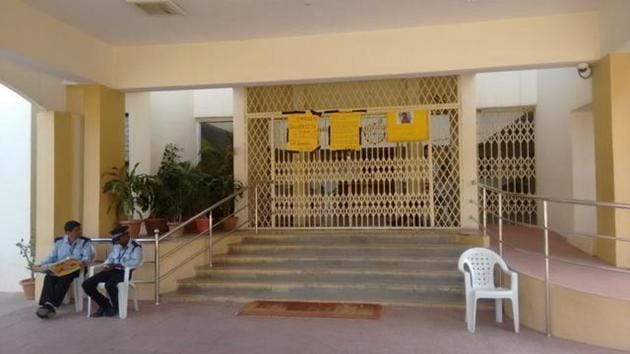 Hyderabad University suspends PhD student for 'misbehaving' with female professor
The university authorities also imposed a fine on two other students for their alleged involvement in the incident
UPDATED ON APR 04, 2018 06:42 PM IST
The University of Hyderabad on Tuesday rusticated a research scholar for six months and imposed a fine on two other students for allegedly misbehaving with a female assistant professor in November last year.
According to an order issued by the university authorities, Linga Swamy Baikini, doing his PhD in sustainable environment-friendly industrial production (SEIP) was suspended from the university for a period of six months with effect from April 2.
He was barred from accessing any facility including the hostel in the university for six months and was also fined Rs 30,000.
Linga Swamy is the university in-charge of the Congress-affiliated National Students Union of India (NSUI).
The other two students – Hakeem, who is pursuing M Phil in comparative literature, and Thahir Jamal, a PhD student of comparative literature – were also found guilty of misbehaving with the faculty and was asked to pay a fine of Rs 10,000 each.
The decision followed a report submitted by the university's proctorial board, which enquired into the complaint lodged by the assistant professor of centre for health psychology on November 28. The enquiry report was submitted to university vice-chancellor Podile Appa Rao in the first week of March this year.
In the order, university registrar warned the students against involving in activities other than their studies.
Though the order nowhere mentions the nature of complaint against the accused students, independent inquiries revealed that Linga Swamy had entered into an argument with the assistant professor, when she refused to accept an OBC certificate of a girl student of the department.
A student leader of the university and a member of the Ambedkar Students Association (ASA), Sannaki Munna however claimed Linga Swamy was falsely implicated in the case as he was actively involved in the Justice for Rohith Vemula movement and even went to jail during the agitation in the university.
Vemula, an activist with the ASA committed suicide on 17 January 2016 over alleged caste-discrimination in the university.
"The other two students, who were asked to pay fine, were no way involved in the incident and they were called as witnesses before the board," Munna added.
This is not the first incident of disciplinary action against the students by the university authorities. In November last, the authorities suspended three post-graduate students, including a female student, for a period of two years for allegedly manhandling and abusing faculty wardens during their surprise check of the men's hostel. They also suspended seven other students for a period of six weeks.
In February this year, the university authorities rusticated a research scholar associated with the Akhil Bharatiya Vidyarthi Parishad (ABVP) for one year for allegedly posting a derogatory message in the social media against a Dalit professor. The suspension period was later reduced to six weeks following an appeal by the student.
Close