20 years of Google: 'You have full control over your data...'
Aug 26, 2018 09:08 AM IST
Rajan Anandan, vice-president (South-East Asia &India), Google talks about the company's journey in India, since it arrived in the country in 1994, and addresses concerns often voiced by users
Even after spending almost seven-and-a-half years at technology firm, Google, Rajan Anandan, vice-president, (South-East Asia and India) still loves coming to work. "Every day at Google is special," he says, reinforcing that cliches become cliches because they are true.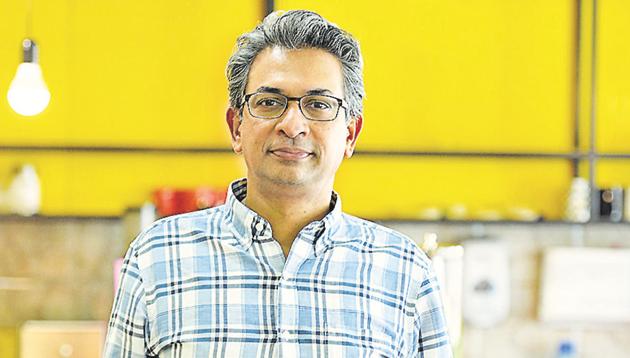 Anandan divides his time equally between India and South-East Asia. In India, Google's mission has been to bring a billion Indians online but Anandan says expectations need to be kept in check. "The one billion user mark will take time. India has infinite potential. And we are just getting started as a nation," he says, sitting in a cubicle on the second floor of Google's Gurugram office.
Earlier this month the company took responsibility for a coding flaw that caused a defunct Unique Identification Authority of India (UIDAI) helpline number to mysteriously appear in the contact lists of mobile phones running on its Android operating system. However, it said that no user data was compromised. Next month, the technology firm will complete 20 years as a search engine, globally.
Anandan talks about the company's 14-year India journey. Edited excerpts:
As Google completes 20 years of search globally, could you take us through its years in India?
The mission statement of Google is to organise the world's information and make it universally accessible and useful.
In the early days, very few Indians were online, personal computer penetration was extremely low and connectivity was a big constraint. We started by building experiences that addressed the needs, interests and passions of Indians. We have also focused on enabling a great web experience to the entire spectrum of users – there is no single type of user in India – there are many 'Indias' we work for. Especially at the entry-level end of the spectrum where users are constrained by the power of devices and reliability of mobile data services, we developed technologies like Web Lite and Google Go [the new set of light apps made by Google that use very little data for entry-level smartphones] which are built to offer a great web experience even in this environment.
During our journey – along with the broader adoption of the web and faster access speeds – two big revolutions happened in the Search context, the Knowledge Graph [a system that Google launched in May 2012 that provides answers not just links to the search query] and mobile adoption.
What sets Indian users apart?
Their passion points, really. What people really care about deeply varies from country to country. For India, it's sports – which really is cricket in India – movies, music. Music is always Indian music, there is very little interest actually in western music in India. So, I would say the passion points are very specific.
Second is the use of local languages. I'd say what separates India as a country is the fact that we have so many local languages. Third is this incredible propensity for voice search where Indians would much rather speak than type, part of it is also because they didn't grow up in the desktop era. It would be hard to talk to a desktop computer. But with the phone, it's a voice device. One is used to talking on the phone, now you're just talking to the Internet.
Big surprises and discoveries along the India journey?
There have been very many. One is affordability, we are very sensitive to how many rupees we spend – the price.
So, one of the reasons we launched YouTube offline [a feature from Google that allows subscribers to use YouTube without an Internet connection through downloads] or Search Lite [it is like the Google search app but it uses very little data, allowing users with limited bandwidth to be able to search for information] is because data was expensive and affordability was a huge constraint. And the networks at the time were very slow and patchy. India was the first country where we took YouTube offline, one of our fastest-growing features. It happened because of this user insight.
Today, data has become more affordable. But what surprises us even today is that even at the current data pricing, offline is still big and the appetite for consumption is enormous. I would say lately what has taken me completely by surprise is voice (search), its pick up. Voice is exploding in a positive way. It's happening all over the world but in India it's happening at a much bigger scale and much faster.
How critical has YouTube been to Google's growth in India?
In India, YouTube has 225 million users. Even at this scale our watch time, which is the number of hours of content consumed per day, is growing at over a 100 per cent. So, the Indian user's appetite for online video is insatiable. We have never seen anything like it in the history of online video anywhere in the world. It is superbly exciting. And if you look at the reach of YouTube in metro India in terms of unique million visitors per day, it's 50 per cent more than the largest television network in India. Video is massive and it's growing by the minute. The inflection point really happened with the cost of data becoming more affordable.
What's it been like for you at Google?
It's been seven-and-a -half years. It's been a wonderful journey. I think in many ways, when I joined Google, we had just crossed a 100 million Internet users. There was virtually no venture capital in the ecosystem. There were less than 10 million active Android users. We weren't even in the top ten Internet markets in the world. Today we are the second-largest user market in the world.
It's been a fantastic journey both to see how the Internet in India has changed, how consumers have changed, how our team here has grown, all the initiatives we have launched here. But all that being said, I believe that the most exciting moment for Google in India, and for me, hasn't happened yet. It's going to happen. It always is about the future.
What are the most used regional languages on Google in India?
We don't share that. What I can tell you is that for every local language – Hindi, Kannada, Tamil, Malayalam or Bengali – the curves for all regional language growth are perpendicular. You've to keep in mind that every single Internet user coming online in India – and there are a lot of them every single minute – is not proficient in English. From search queries to video consumption, everything in local languages is growing. The one language that's not part of this growth is English. It's not that English is not growing but everybody who speaks English is already on the Internet. They've been online for a while.
Does Google know everything about us?
We take privacy and security very seriously. At the end of the day you as a user can figure out exactly what data we have on you. It can be accessed through My Accounts [it lets you control and protect your privacy all in one place]. That's what we know. The beauty of it is you can totally export it and you can delete it. You have full control over your data. So, if you don't want Google to know anything, go delete the whole thing.
But doesn't not having user data have a bearing on your business?
At the end of the day, our view is to make the Internet useful. Why did we go from 10 blue links to the knowledge graph? Because we wanted to give you the answer. We're trying to make our products more useful to help Indian users find the answers they are searching for. The choice is yours and with full transparency.
Won't this lead to unhealthy dependence on technology?
I am of the camp that believes that technology can make lives so much better. And if you look at a country like India where we have so many opportunities and challenges – healthcare, education, agriculture, finance – technology, not just the Internet, can help so much to improve people's lives.
Read: 20 years of Google: IIT KGP remembers Sundar the student
Read: 20 years of Google: What's the day's doodle