I was framed in Gorakhpur hospital deaths tragedy says Dr Kafeel
Dr Kafeel, who underwent ECG and Echo tests, said doctors jailed in connection with the BRD incident were innocent. He said former principal of BRD Hospital was suffering from liver cirrhosis and other complications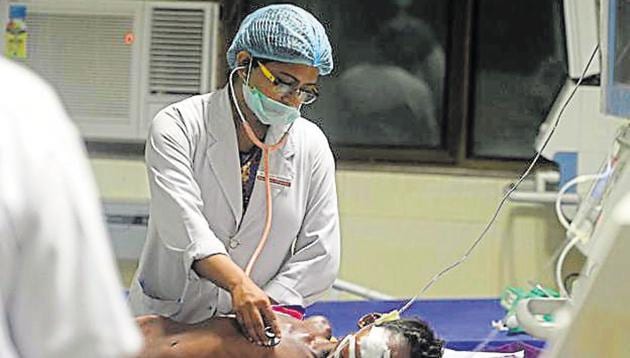 Updated on Apr 19, 2018 07:33 PM IST
Hindustan Times, Lucknow | By HT Correspondent
, Gorakhpur
Dr Kafeel Khan, who is in jail in connection with the death of 30 children at BRD Medical College last year, on Thursday said the incident was an administrative failure and he was being falsely implicated in the case.
Dr Kafeel, hailed as a hero immediately after the incident on August 10-11, was later charged with attempt to murder and criminal conspiracy.
"It (BRD tragedy) was a total administrative failure. I had no role in the purchase of oxygen. I am being falsely implicated in the case," Dr Kafeel told media persons as the police took him to cardiology department of district hospital after he complained of chest pain and uneasiness.
"How payments could have been made to the supplier if the government failed to provide funds?" he asked.
Dr Kafeel, who underwent ECG and Echo tests, said doctors jailed in connection with the BRD incident were innocent. He said former principal of BRD Hospital was suffering from liver cirrhosis and other complications.
Dr Kafeel's wife Shabista Khan said her husband suffered a stroke on March 27 and alleged that he was not given proper treatment.
The firm, Pushpa Sales, had stopped oxygen supply after its dues were not cleared by the medical college.
Immediately after the tragedy on August 10-11 last year, a section of the media hailed Dr Kafeel as a saviour of children who arranged jumbo oxygen cylinders through his own means.
Later, he was made an accused in the case along with nine others, including former principal of BRD Medical College Dr Rajeev Mishra.
The principal's wife Dr Purnima Shukla and chief pharmacist Dr Sateesh (goes by one name) were also among the accused.
Director of oxygen supply firm Pushpa Sales Maneesh Bhandari, a co-accused in the case, was granted bail by the Supreme Court earlier this month.
Recently, the Indian Medical Association (IMA) said the doctors were being made scapegoats to save the big fish actually responsible for the tragedy.
The IMA questioned as to why no action was taken against the then district magistrate Rajeev Rautela who was the senior most official of the district administration.
Close Story