ICET: India and US unveil ambitious roadmap for defence and tech partnership
Feb 01, 2023 04:21 PM IST
The ICET dialogue was a result of an understanding between Prime Minister Narendra Modi and President Joe Biden to create the mechanism led by the two national security councils in May 2022
At the inaugural dialogue of the initiative on critical and emerging technologies (ICET) in Washington DC on Tuesday, India and the United States (US) unveiled an ambitious roadmap to position each other as "trusted technology partners", deepen the defence relationship with a focus on co-production and co-development, and institutionalise a standing mechanism to overcome regulatory barriers and export controls, particularly on the American side.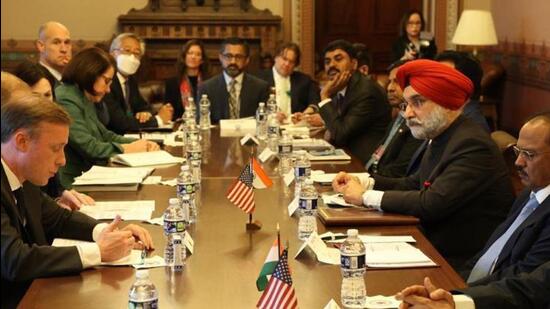 Led by national security adviser (NSA) Ajit Doval and his counterpart Jake Sullivan, the ICET dialogue was a result of an understanding between Prime Minister Narendra Modi and President Joe Biden to create the mechanism led by the two national security councils in May 2022.
Stay tuned with breaking news on HT Channel on Facebook.
Join Now
India and the US also agreed to deepen cooperation in the domain of artificial intelligence, quantum, space, semiconductor manufacturing and scientific research and development.
The strategic commitment
A government of India statement said that ICET aimed to position the two countries as "trusted technology partners by building technology value chains and support the co-development and co-production of items".
A White House factsheet on the meeting said that ICET aimed to "elevate and expand our strategic technology partnership and defense industrial cooperation".
It added that both countries had affirmed that the ways in which technology was "designed, developed, governed, and used" should be shaped by "shared democratic values and respect for universal human rights". "We are committed to fostering an open, accessible, and secure technology ecosystem, based on mutual trust and confidence, that will reinforce our democratic values and democratic institutions."
The framing is seen as a clear reference to the shared concerns in both countries abut China gaining an edge in these tech domains, the concentration of supply chains in China, and ensuring that global tech standards are not dictated by an undemocratic Chinese regime.
A senior US administration official had said on Tuesday that the challenge from China — against which the US has imposed export restrictions — was a clear dimension in driving the mechanism, but added that it was just one dimension and the US saw it in Washington DC's strategic interest to support India's rise as a global power.
The Washington Post quoted Sullivan as saying that the backdrop of strategic competition with China had been a feature of the US-India relationship for over a decade now. But, he added, that a big part of the story was "fundamentally about a bet on high tech and an industrial innovation policy". "That's at the core of the president's entire approach to his presidency. So the China-Russia factors are real, but so is the idea of building a deep democratic ecosystem with high technology."
Overcoming barriers
ICET, according to the Indian readout of the statement, also aimed, to address regulatory restrictions, export controls and mobility barriers through a standing mechanism". "The US side also assured support to ease export barriers to India in a few critical areas, including through efforts towards legislative changes." This has been a key Indian concern.
The White House concurred, saying that both had underlined their commitment to "working to resolve issues related to regulatory barriers and business and talent mobility" in both countries through a standing mechanism. The senior administration official quoted above said that they will work with the US Congress in lifting restrictions, especially given the strong bipartisan support for the relationship.
The US, according to administration officials, has flagged the need for regulatory and policy consistency and overcoming tax and custom hurdles on the Indian side as well.
Defence partnership gets a boost
According to the Indian statement on ICET, in the field of defence manufacturing, the two sides agreed to focus on "joint production of key items of mutual interest". The US also committed to expeditious review of the license application submitted by General Electric to produce jet engines in India for the indigenously manufactured Light Combat Aircraft. The statement said that a "new Innovation Bridge" will be created to connect defence startups on both sides.
The White House factsheet offered the same reading, including a commitment to expeditious review of the GE application. But it also added that both countries will develop "a new bilateral Defense Industrial Cooperation Roadmap" to accelerate technological cooperation for the "joint development and production, with an initial focus on exploring projects related to jet engines, munition related technologies, and other systems". It said that India and US will enhance long term research and development cooperation "with a focus on identifying maritime security and intelligence surveillance reconnaissance (ISR) operational use cases".
Doval, separately, met the chairman of the joint chiefs of staff, Mark Milley, and deputy secretary of defence Kathleen Hicks. A Pentagon statement said that Doval and Hicks had discussed "priorities for the US-India bilateral defense partnership, to include strengthening policy and operational coordination in the Indo-Pacific region and increasing defense industrial cooperation between the two countries". Hicks thanked Doval for "India's leadership in the region" and discussed avenues to deepen coordination between the two militaries to address the "region's increasingly contested strategic environment".
The semiconductor push
At ICET, according to the Indian statement, the US "supported the development of a fabrication ecosystem in India, and encouraged joint ventures and partnerships for mature technology nodes and advanced packaging".
The White House factsheet too said that both countries will enhance "bilateral collaboration on resilient semiconductor supply chains" and support the "development of a semiconductor design, manufacturing, and fabrication ecosystem in India". It added that leveraging complementary strengths, both countries intended to promote the "development of a skilled workforce that will support global semiconductor supply chains" and encourage the development of "joint ventures and technology partnerships on mature technology nodes and packaging in India".
India said that both countries have agreed to constitute a task force involving India's Semiconductor Mission, India Electronics Semiconductor Association (IESA) and the US Semiconductor Industry Association (SIA) to develop a readiness assessment "to identify near term opportunities and facilitate longer term development of semiconductor ecosystems".
The White House noted that this assessment will "facilitate longer-term strategic development of complementary semiconductor ecosystems" and make recommendations to the Department of Commerce and the India Semiconductor Mission "on opportunities and challenges to overcome in order to further strengthen India's role within the global semiconductor value chain".
It will also provide input to the US-India Commercial Dialogue, which is scheduled for March 9 and 10 in New Delhi.
"The task force will also identify and facilitate workforce development, R&D including with respect to advanced packaging, and exchange opportunities to benefit both countries".
Space as the next frontier
India said that during the dialogue, there was appreciation of the opportunities offered by the opening up of India's space sector and the contribution of India's space tech companies in the US.
"It was agreed that ISRO would work with NASA on human space flight opportunities, NASA's Commercial Lunar Payload Services (CLPS) project, and STEM talent exchanges."
The White House factsheet was more detailed and added that the cooperation on human space flight will include establishing exchanges "that will include advanced training for an Indian Space Research Organisation (ISRO)/Department of Space astronaut at NASA Johnson Space Center".
Both countries will also work to identify innovative approaches for the commercial sectors of the two countries to collaborate, especially with respect to activities related to NASA's Commercial Lunar Payload Services (CLPS) project.
"Within the next year, NASA, with ISRO, will convene US CLPS companies and Indian aerospace companies to advance this initiative." On STEM talent exchanges, there will be an expansion of the Professional Engineer and Scientist Exchange Program to include space science, Earth science, and human spaceflight and a standing invitation will be extended to ISRO to participate in NASA's biannual International Program Management Course.
The White House added that there will also be an effort to strengthen the bilateral commercial space partnership through a new US department of commerce-Indian Department of space led initiative under the US-India civil space joint working group.
The agenda of the joint working group will expand to include "planetary defense".
Separately, on Tuesday, India and the US held the eighth meeting of the joint civil space working group.
A state department statement said that discussions had "covered collaboration in Earth and space science as well as human space exploration, global navigation satellite systems, spaceflight safety and space situational awareness, and policies for commercial space".
Participants had also considered implementation of guidelines and best practices developed by the United Nations Committee on the Peaceful Use of Outer Space (COPUOS) "to ensure the long-term sustainability of outer space activities".
The State Department added that the NASA-ISRO Synthetic Aperture Radar (NISAR) mission, planned to launch in 2024, is expected to systematically map Earth, using two different radar frequencies to monitor resources such as water, forests and agriculture.
"The mission will provide important Earth science data related to ecosystems, Earth's surface, natural hazards, sea level rise and the cryosphere".
AI, quantum and telecom
At ICET, according to the Indian statement, both countries, recognising the importance of quantum technologies, also decided to establish a "quantum coordination mechanism" with participation from industry and academia. The US confirmed the formation of the mechanism in its own readout.
The White House factsheet added that both countries will draw from global efforts to develop common standards and benchmarks for trustworthy artificial intelligence (AI) through coordinating on the development of consensus, multi-stakeholder standards and ensure that these standards and benchmarks "are aligned with democratic values".
India and the US will also promote collaboration on "High Performance Computing (HPC)" with the White House saying this will include working with US Congress to "lower barriers to US exports to India of HPC technology and source code".
In the domain of advanced telecom, the Indian government's statement said that, given India's cost-competitiveness and scale, both sides agreed to launch a public-private dialogue covering 5G/6G and ORAN using trusted sources.
The White House confirmed the dialogue and added that both sides will advance cooperation on research and development in 5G and 6G, "facilitating deployment and adoption of Open RAN in India, and fostering global economies of scale within the sector".
India's ambassador to the US, Taranjit Singh Sandhu, and the S Panchanthan, the US National Science Foundation director, also signed an implementation pact to deepen collaboration between science agencies in a range of areas — "including artificial intelligence, quantum technologies, and advanced wireless" -- to build a robust innovation ecosystem between our countries.
A new joint task force of the Association of American Universities and Indian academic institutions, including IITs, will make recommendations for research and university partnerships.
For the future, the White House said that both countries had identified the fields of biotechnology, advanced materials, and rare earth processing technology as areas for cooperation.
The next ICET meeting is scheduled for later in the year.
The Indian statement said that discussions during Doval's visit form the basis for "intensifying India-US cooperation in cutting edge sectors" and are truly reflective of the "maturity of the India-US comprehensive global strategic partnership."