'If Mulayam can leave son, why can't we leave him?': Akhilesh rises amid SP feud
Prashant Jha, Hindustan Times |
Varanasi/Mirzapur
Jan 04, 2017 01:26 PM IST
CM Akhilesh Yadav remains enormously popular for a leader who has been in office for five years.
In the Pandeypur locality of Varanasi, a group of young Muslim men -- a tailor, a few students, an electrician, a driver who has worked in Saudi Arabia and has returned home -- are watching a BJP MLA, as he campaigns in the vicinity.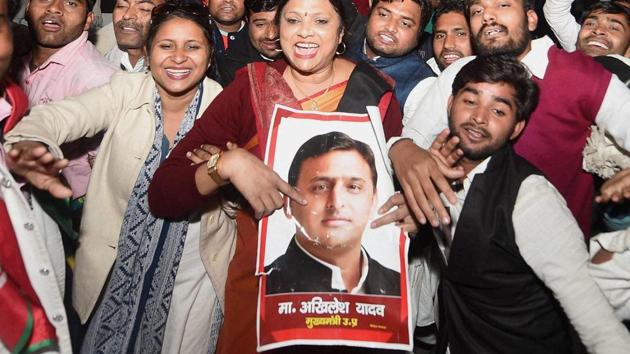 It is the perfect peg to ask about the emerging election mood. And the response is swift.
Read: Party belongs to me, people by my side: SP chief Mulayam
"We are with Sapa (SP)." Which SP, that of the father or the son? "Akhilesh bhaiya," comes the unanimous refrain. Why? "He has worked for vikas. He made a highway. He gave laptops, he gave pensions, he will give a phone if he wins, Inshaallah," says Mohammed Naseem. The men claim that for them, employment is the biggest issue and they have faith that UP's young CM will deliver on it.
For 25 years, Mulayam Singh Yadav has been the pre-eminent leader of UP's Muslims - to the extent that many would refer to him as 'Maulana Mulayam'.
When asked if they would leave Mulayam after all that he claims to have done for Muslims, Waqar - one of the young students in the group - says, "If Mulayam can leave his son for his brother, why can't we leave him?"
Read: Yadav family feud: Akhilesh meets Mulayam, but no sign of truce yet
It is still a little early, and it is not clear how the SP rift will play out. UP's triangular polity, with BJP, SP and BSP with a smaller player, Congress thrown into the mix; its sheer size and population makes any generalisation difficult. Even a small swing in votes can make a difference between victory and defeat.
But what is emerging clearly is that Akhilesh Yadav remains enormously popular for a leader who has been in office for five years. His act of rebellion against the old guard in SP has enhanced this popularity- among SP's core supporters of Yadavs and Muslims, as well as other castes - in the lanes of Varanasi, villages of Mirzapur and Jaunpur, and on the highways in Purvanchal.
A senior Yadav government official says, "Right down to the villages, among people who would immediately shout you down if you criticised Mulayam Singh even slightly, the mood is that the father has lost the plot; that he has been misled; that he is obsessed with power, and that Akhilesh is the future." A faculty member at the Banaras Hindu University mentions how in informal conversations at a faculty meeting, across age groups and castes, there was support for Akhilesh.
What explains this?
"You must remember that for 25 years, UP has only seen Kalyan Singh, Mulayam Singh and Mayawati. All three practiced only identity politics. Akhilesh is the first leader who is at least seen to focus on the domain of governance," says the government official.
There is also sympathy for him because of the perception that he was boxed in by his father, uncle and other relatives. And this has now turned out to be a boon, because it has helped Akhilesh ward off anti-incumbency. This is in sharp contrast to Mulayam, who by the end of his terms had become deeply unpopular. Admits a local BJP leader, "We haven't been able to create a "hawa" because the negative sentiment against Akhilesh is limited. There is no anger."
Also read: Akhilesh Yadav begins work as Samajwadi Party's national president
The sympathy extends to members of caste groups not traditionally loyal to SP. Abhishek Pandey is a hotel waiter in Varanasi, and originally belongs to Gorakhpur.
He supports Akhilesh. Why? "He is fighting a mafia led by his father." Pandey voted for BJP in the 2014 elections, and says, "I am still a Modi supporter. But Modiji is fine in Delhi and Akhilesh bhaiya is best for Lucknow."