In blow to Congress, Mayawati rules out poll pacts in Madhya Pradesh and Rajasthan
BSP chief Mayawati alleges sabotage as uncertainty stalks 2019 grand alliance.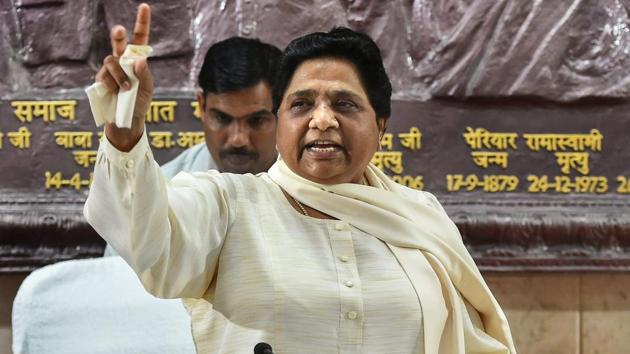 Updated on Oct 23, 2018 02:35 PM IST
In a setback to efforts for Opposition unity ahead of state polls leading up to the 2019 general elections, Bahujan Samaj Party (BSP) supremo Mayawati on Wednesday ruled out an alliance with the Congress in two key states and launched a furious attack on the leadership of the grand old party.
The Congress is two steps ahead of the ruling Bharatiya Janata Party (BJP) in attempts to finish the BSP politically, Mayawati said in a statement read out to ANI, accusing it of trying to undermine other Opposition parties. The Congress reacted cautiously, expressing the hope that differences will be sorted out.
"In the interest of the BSP movement, it has been decided that the party would not ally with the Congress in Madhya Pradesh and Rajasthan at any cost," Mayawati said. "In Karnataka, we tied up with a regional party. In Chhattisgarh too, we did the same. In Madhya Pradesh and Rajasthan, we may go with regional parties there, but certainly not with Congress."
MP, Rajasthan and Chhattisgarh are key states that will vote later this year in what is a precursor to next year's Lok Sabha polls. Mayawati's decision to spurn a tie-up with the Congress in MP and Rajasthan, on top of Chhattisgarh, bodes ill for Opposition unity in the Lok Sabha polls and could be a morale-booster for the BJP-led National Democratic Alliance (NDA).
Her snub to the Congress could also cast a shadow on efforts to forge a Mahagathbandhan (grand alliance) of Opposition parties, including the BSP, Samajwadi Party and the Congress, in the Lok Sabha elections from BJP-ruled Uttar Pradesh, which sends more MPs (80) than any other state to the 543-member Lok Sabha.
Significantly, Mayawati spared Congress president Rahul Gandhi and his mother and United Progressive Alliance (UPA) chairperson Sonia Gandhi from her tirade, in which she principally targeted senior Congress leader Digvijaya Singh, whom she called a "BJP agent who is opposed" to any tie-up between the two parties.
"I feel Sonia Gandhi and Rahul Gandhi's intentions for Congress-BSP alliance are honest. But some Congress leaders are sabotaging this," Mayawati said.
The Congress was encouraged by her seemingly conciliatory remarks towards its top leadership.
"She has expressed mutual respect and reposed her confidence in Soniaji and Rahulji," Congress spokesperson Randeep Singh Surjewala told reporters.
"That is the most important issue rather than reading multiple meanings in her statement. We respect her sentiments," Surjewala said.
"Once the two leaders have an amicable, respectable and fruitful relationship with each other, all other creases can be ironed out. If the three leaders (Sonia, Rahul and Mayawati) are on the same page, no fourth person can disturb that equation," he said, in an apparent reference to Singh, a former MP chief minister.
Congress leaders said Mayawati's statement should be seen as a "pressure tactic" to ensure a "good bargain" for the BSP in all the poll-bound states in terms of seat-sharing arrangements.
Even so, Mayawati's strong statement is expected to dampen the spirits of Opposition parties in taking on Prime Minister Narendra Modi in the 2019 polls; they had pinned much hope on the proposed Mahagathbandhan in Uttar Pradesh to oust the BJP from power at the Centre.
Chances of the grand alliance taking shape had brightened after a warm and affectionate hug between Sonia Gandhi and Mayawati at the swearing-in ceremony of Karnataka chief minister HD Kumaraswamy in May this year.
Mayawati's remarks drew a prompt response from former Uttar Pradesh chief minister and Samajwadi Party (SP) president Akhilesh Yadav, who urged the Congress to display magnanimity and take along other political parties in the common quest of defeating the BJP.
"I am saying even today that the Congress should show its large-heartedness, and it should contest elections by taking along all the political parties who have similar thoughts and ideology," he told reporters in Lucknow.
"If there is any delay, then there is a possibility that other parties may declare their candidates. After this, they (Congress) will be levelling allegations that they colluded with the BJP," Yadav said.
The SP chief also said he knows the BSP does not take any decision out of fear of anyone.
Digvijaya Singh responded by tagging a September 20 news report stating that the "BSP supremo also declared candidates for 22 seats in Madhya Pradesh and said that her party will contest all 230 seats in the state".
Mayawati had made this announcement while declaring an alliance with Ajit Jogi's Janata Congress Chhattisgarh (JCC).
"Now how am I responsible for sabotaging Congress BSP Alliance?" Singh asked on Twitter.
Mayawati's attack on the Congress handed the BJP fresh ammunition. "What relations Congress has with others is their matter but all I can say is that coalition is not in the DNA of the Congress. The only thing in their DNA is family," Union minister Ravi Shankar Prasad said.
A Congress functionary said on condition of anonymity that the BSP had demanded 50 seats in MP and 15 in Chhattisgarh. "We were willing to concede nine in Chhattisgarh and 20-22 in Madhya Pradesh. As far as Rajasthan is concerned, our state unit has from the beginning opposed a tie-up with any party," he said.
Mayawati said the Congress had offered only 15 to 20 of the 230 seats to the BSP in MP and five of the 90 seats in Chhattisgarh.
Had the Congress not adopted an "adamant" attitude, she said, it could have got the benefit of an alliance with the BSP, whose votes are entirely transferable. "In such alliances, the BSP suffers the most rather than getting any benefits," she added.
The BSP chief insisted that the Congress's attitude was not to defeat the BJP but to weaken other Opposition parties. "That is unfortunate. The Congress had adopted similar tactics in the past and is continuing it now. Even now it is not trying to change itself," she said.
Mayawati said Digvijaya Singh had been giving statements that she was under a lot of pressure from the NDA government and so did not want an alliance with the Congress.
"This is baseless. Congress leaders like Digvijaya Singh do not wish for a Congress-BSP alliance. They are afraid of agencies like the ED (Enforcement Directorate, CBI (Central Bureau of Investigation)," she said.
Mayawati said the BSP was a party of all communities, including Dalits, tribals, backward classess, downtrodden, farmers, labourers, Muslims and other minorities. "We are not going to bow at any cost before either the BJP or the Congress. It will not be the puppet in the hands of anyone. We still have the capacity to bounce back," she said.
Coming down heavily on the Congress, Mayawati said, "Congress is not learning lessons from its mistakes and this is the reason why the BJP is in power at the Centre and in many states. The Congress is under an illusion and feeling arrogant that it will defeat the BJP on its own. But it does not realise that still the people are against Congress' policies."
In a direct fight with the Congress, she said, the BJP would win easily. "Even then the Congress does not place the non-BJP parties ahead and is not ready to make alliances with Opposition parties to take on BJP."
At the same time, she accused the BJP of engaging in politics of casteism and communalism. "There is tension in society. Violence is happening. A situation of anarchy is prevailing," Mayawati said.
"Despite this, Congress is not ready to change itself. The BSP has always backed Congress to keep the BJP out of power and has suffered on account of it. Instead of being thanked for it, BSP has been back-stabbed by the Congress, which has been hatching conspiracies to weaken non-BJP parties," she alleged.
Asked whether the BSP would align with the Congress in the 2019 Lok Sabha polls, Mayawati replied, "I have said everything about this."
Political analyst Badri Narayan of the Allahabad-based GB Pant Institute of Social Sciences said it was important to distinguish between the BSP chief's stand in poll-bound states and in Uttar Pradesh.
"She wanted the BSP to be recognised as an important player in MP, Chhattisgarh and Rajasthan. The Congress did not do that — which explains her aggression. But the impact of this on UP politics is not clear yet. Her stand in UP could be different, for she recognises the importance of an alliance."
Close Story