In warning for 2019, BSP unfriends 'arrogant' Congress for Rajasthan, Madhya Pradesh polls
Mayawati called the Congress arrogant and said party leaders like Digvijaya Singh did not wish for an alliance with BSP.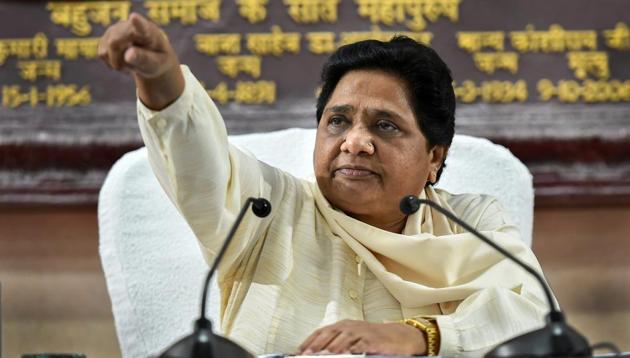 Updated on Oct 03, 2018 06:56 PM IST
Bahujan Samaj Party's Mayawati on Wednesday shut the doors on an alliance with the Congress for assembly elections in Madhya Pradesh and Rajasthan in a huge setback to the opposition's effort to put up a united front against the ruling BJP.
Mayawati also launched a blistering attack on the Congress as she announced her party's decision to either go alone in the two states or tie up with local players. But she didn't say a word about her party's stand in next year's Lok Sabha elections. That omission is seen as a message to the Congress that she was amenable to exploring an partnership for 2019.
The BSP chief also drew a distinction between the Congress which she repeatedly described as '"arrogant" and the two top Congress leaders, UPA chairperson Sonia Gandhi and party chief Rahul.
"I feel that Sonia Gandhi and Rahul Gandhi's intentions for the Congress-BSP alliance are honest. However, some Congress leaders are sabotaging this," she said, according to news agency ANI.
The Congress took note of this expression of trust.
"If Mayawati ji holds absolute trust in Rahul Gandhi and Sonia Gandhi, then other creases can be ironed out," said Congress' chief spokesperson Randeep Singh Surjewala.
The BSP chief is said to have been particularly upset about Congress leader Digvijaya Singh's comment that had linked her party's decision to contest the Chhattisgarh election in partnership with Ajit Jogi's party to what he had claimed, was pressure from central probe agencies such as the CBI.
"It is important to know that this senior leader of Congress is an agent of the BJP," Mayawati said, hitting back before accusing the Congress of trying to finish off the BSP.
"They (Congress) are getting arrogant and are under misconception that they can defeat the BJP on their own but the ground reality is that people haven't forgiven Congress party for their mistakes and corruption. They don't seem to be ready to rectify themselves," Mayawati said.
But it wasn't just one comment made on television by a Congress leader that had driven her decision against partnering with the Congress. The BSP had also been piqued at the Congress because the party hadn't offered the BSP what it considered would have been a respectable number of seats.
"In Rajasthan, the Congress was offering us only nine seats out of 200 assembly seats, in Madhya Pradesh 15-20 (out of 230 seats in the state), in Chhattisgarh only 5-6 seats out of 90," he said, according to ANI.
Mayawati underlined that this wasn't such a great offer, particularly given that when the BSP enters into an alliance with any party, the BSP was able to transfer its vote in favour of the joint candidate.
"The BSP loses more due to alliance as all its votes get transferred to Congress. Keeping in mind such things, we think Congress is trying to eliminate small parties like BSP in the name of wiping out BJP," she said.
Close Story