India retrieves 12th-century Brahma-Brahmani idol from London, others to follow soon
Jan 09, 2018 10:46 AM IST
India has retrieved a 12th-century priceless marble idol of Brahma and his consort Brahmani, which was stolen from Gujarat's Patan in 2001, from London after a wait of over 16 years
India has retrieved a 12th-century priceless marble idol of Brahma and his consort Brahmani, which was stolen from Gujarat's Patan in 2001, from London after a wait of over 16 years, officials have said.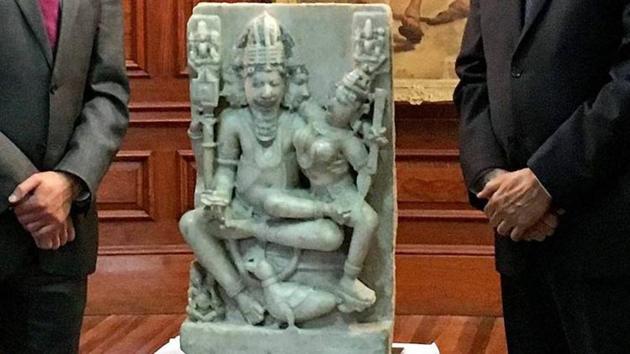 "The latest arrival, Brahma-Brahmani, reached Delhi on December 22 from London. We have kept it in the ASI's (Archaeological Survey of India) Purana Qila museum for now and also have written to the Baroda circle of ASI to take it back after making adequate safety arrangements there for this priceless antiquity," DN Dimri, ASI's director of antiquities, New Delhi, told the Hindustan Times.
Stay tuned with breaking news on HT Channel on Facebook.
Join Now
"The ASI has worked hard for over 10 years to bring this idol back from London. The marble idol is found to be in satisfactory condition as has not been broken from any corner," he added.
According to ASI officials, the Brahma-Brahmani idol was stolen from the UNESCO World Heritage Site at Rani-ki-Vav (bathing place of the queen) in Patan in November 2001 and smuggled out of the country.
An 11th-century sandstone idol of Lord Ganesha from Open Sky Museum was also stolen at the same time.
"The Brahma-Brahmani idol was found to be in the possession of an individual in London who had advertised it to sell it. Someone in London identified the idol in the advertisement and informed the Indian high commission there about this illegally acquired antiquity," an ASI official said requesting anonymity.
Also expected soon is the 10th-century Lord Nataraja's life-size sandstone idol from London after a wait of about 20 years. The idol of Shiva as the Lord of Dance was stolen from a temple in Rajasthan's Jaipur in 1996 and smuggled out of the country and sold to a British national for hundreds of thousands of dollars.
India has also initiated the process of bringing back a sandstone idol of Varaha – an avatar of Lord Vishnu – from Switzerland. It was stolen from a temple in Atru, Rajasthan.
Correspondence is underway for another antique idol of Mahishamardini from Metropolitan Museum in the United States, which was stolen from Bihar's Patna.
The ASI's records show that the number of stolen antiquities recovered from various countries since 2014 has been put at 25 as against 13 in 37 years - between 1976 – when the Antiquities and Art Treasures Act was put into force - and 2013.
However, it is yet to get thousands of other antiquities which were stolen from various temples in India, and smuggled to other countries across the world.
The ASI's antiquities wing is responsible for implementing the Antiquities and Art Treasures Act, 1972, which came into force in 1976. The act puts a blanket ban on the trade and export of antiquities and art treasures, and provisions for retrieval of stolen or smuggled antiquities.
Before 1972, the export of antiquities was allowed under license from the appropriate authorities.