War not a solution, issue can be resolved through talks: Sushma on Doklam standoff with China
Aug 04, 2017 12:24 AM IST
Sushma Swaraj said in the Rajya Sabha that 'patience is key to resolving problems' because of patience is lost, there can be provocation on the other side.
War was not a solution and India would resolve the border standoff with China through dialogue, external affairs minister Sushma Swaraj said on Thursday, as the Communist neighbour again asked New Delhi to withdraw troops from Doklam if it wanted peace.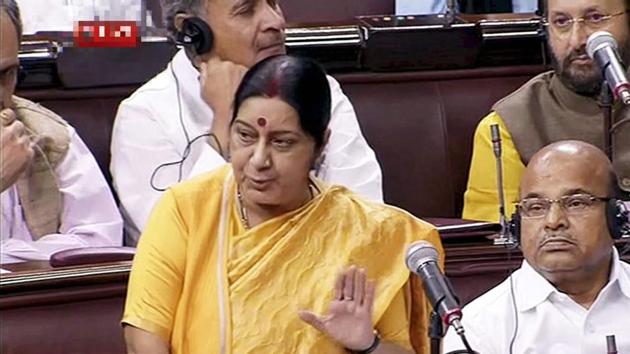 It was not possible to resolve every issue through war and solutions could be found through talks, Swaraj told the Rajya Sabha about the standoff between the border guards of the two countries close to Sikkim in India's northeast.
Stay tuned with breaking news on HT Channel on Facebook.
Join Now
"Patience and bhasha saiyam (restraint) are very important to resolve the issue. If there is no restraint, it provokes the other side," Swaraj said during a four-and-a-half-hour discussion on India's foreign policy and engagement with strategic partners.
Opposition member raised various issues including Doklam standoff, China's attempts to encircle India and New Delhi's Pakistan policy.
"Countries have armies to stay prepared for war. But war is not a solution to anything. Even after war, there has to be a dialogue. So have dialogue without a war," she said.
Faced with an aggressive Opposition charge led by the Congress, Swaraj hit back at the party over Rahul Gandhi's meeting with Chinese ambassador Luo Zhaohui in July. Without naming the Congress vice-president, Swaraj said the Opposition leader met the Chinese envoy without seeking information about the standoff from the government.
The Opposition leader should have first understood the government's viewpoint on and then met the Chinese envoy and conveyed him India's viewpoint, the minister said.
"You should have first sought details from the government and then confronted the Chinese envoy," she said.
Indian and Chinese soldiers are locked in a standoff since June 16, with China accusing India of trespass and preventing its soldiers from building a road in disputed region of Doklam.
Bhutan and India maintain that Doklam, or Donglang as the Chinese call it, is a Bhutanese territory. The road, if built, would have serious implication for India's security.
The Chinese have taken an aggressive stand on the border impasse and has even warned of a war.
India was negotiating with China not only on Doklam but issuing relating to the overall bilateral relationship, she said.
The minister also brushed aside the Opposition's contention that the government had no policy to deal with Pakistan, saying India had a roadmap for peace but it could not be one-sided.
"Terror and talks cannot go together. The day they stop promoting terror, we will start the talks," Swaraj said.
She said the government had extended hand of friendship towards Pakistan but the whole story changed after Hizbul militant Burhan Wani's killing in Kashmir last year.
"The Pakistani PM called him shaheed (martyr). Things changed after that," she said.
Dismissing allegations that Indian foreign policy wasn't delivering, Swaraj said New Delhi was shaping global agenda.
"You say during 1971, the US was with Pakistan, and Russia was supporting India. Today both Russia and the US are supporting India. This reflects the success of our foreign policy," she said.