India short of 3 lakh yoga instructors with demand at all-time high: Assocham
Indo Asian News Service, New Delhi |
Indo Asian News Service
Jul 13, 2017 06:46 PM IST
According to Assocham's study India needs 5 lakh instructors to meet the growing demand
At present, India is facing a shortage of about 3 lakh yoga instructors as against the requirement of over 5 lakh yoga practitioners, a study done by Assocham said on Monday.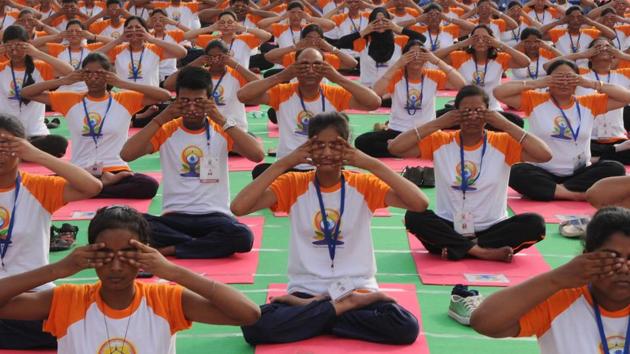 With the International Yoga Day giving a further impetus to its popularity, yoga is increasingly becoming the 'new currency for fitness', said the study that was released coinciding with the "International Yoga Day" on June 21.
Stay tuned with breaking news on HT Channel on Facebook.
Join Now
With yoga gaining popularity around the world, there's a shortage of trained yoga instructors.
"The popularity of yoga amongst celebrities makes teaching yoga an even more lucrative profession. Yoga teachers can charge any rate for private classes depending upon their number of years of experience," the study added.
Today, yoga is an intrinsic part of the lifestyle for people across the country, and the growing number of yoga studios and personal yoga coaching classes are a testimony to this trend.
Fitness institutes, yoga ashrams and independent certified yoga therapists, offer a number of yoga courses from short-term introductory courses to long-term courses, to those for becoming yoga instructors.
The majority of people are ready to shell out money from Rs 5,000 a month to Rs 25,000 a month for yoga classes, as they consider it an investment for their physical, mental, and spiritual well-being, the study said.
There are different styles of yoga in India like Hatha, Iyengar, Ashtanga, Vinyasa.
"Teaching in schools, colleges or corporate instructors, work in hospitals, rehabilitation centres or in the preventive medicine department is becoming famous," added the Assocham paper.
"The demand for yoga teachers is at an all-time high in Southeast Asia and India has emerged as one of the biggest yoga teachers' exporters to Southeast Asia as well as China. An estimated 3,000 Indian yoga teachers are teaching in China and most of them belong to Haridwar and Rishikesh, which are said to be the yoga capital and home to various yoga schools," the study added.