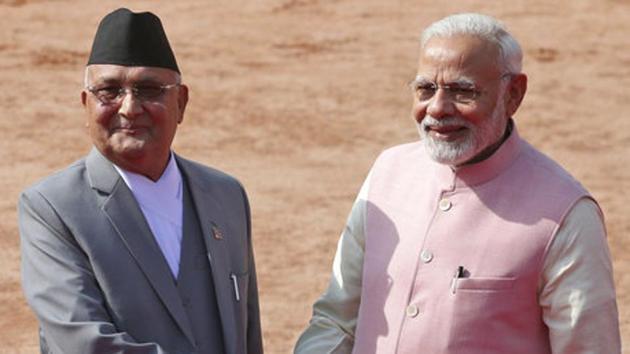 Soon, new rail line to connect India and Kathmandu, says PM Modi
Prime Minister Narendra Modi and his Nepalese counterpart Khadga Prasad Oli held wide-ranging talks in key areas of defence and security, connectivity, trade and agriculture.
Associated Press, New Delhi | By Associated Press
UPDATED ON APR 08, 2018 12:00 AM IST
India pledged on Saturday to upgrade road and cross-border rail links with Nepal and develop inland waterways to provide sea connectivity to the landlocked Himalayan nation.
Prime Minister Narendra Modi said India would also help Nepal in the field of agriculture through organic farming, soil testing and education in farming.
Modi also said both sides would like to jointly start a new rail link connecting Kathmandu, Nepal's capital, with India.
Khadga Prasad Oli, who recently took over as Nepal's prime minister, is on a three-day visit to India. He promised to build a strong edifice of trust with his much larger neighbour.
"We need support and cooperation of friends. Our future lies in expansion of economic engagement and bilateral trade," he said in a statement.
India's main worry is that Nepal may now lean more toward China as Oli heads a government of communist parties. But India surrounds Nepal on three sides and provides oil and other goods to the country. India extended a $1 billion credit line to Nepal for infrastructure development in 2015.
On Friday, Oli told Indian business leaders that Nepal needs massive investment in every sector.
"We have enacted laws and policies on foreign investment, public-private partnerships, industrial enterprises, banking and intellectual property," he said.
Allaying fears that his communist government may discourage the private sector, Oli said he was committed to a liberal economy with the private sector as a key partner.
"We have no intention to reverse the trends. Rest assured, we cannot go against the global trends," he said.
Two-way trade between India and Nepal stood at $4.8 billion in 2015-16. Nepal's main imports from India are petroleum products, motor vehicles and parts, rice, medicine and coal.
Nepal exports jute products, vegetables, fruits, fruit juices, processed food and cardamom to India.
Indian firms are the biggest investors in Nepal, accounting for nearly 40% of foreign direct investments in the tourism, manufacturing, banking, insurance, dry port, telecommunication and power sectors.
Close