Indian, British journalists arrested in Maldives for 'violating' immigration rules
Maldives was plunged into political uncertainty after President Abdulla Yameen refused to implement a Supreme Court ruling.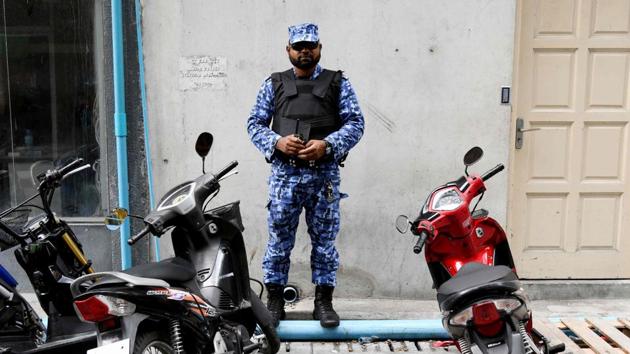 Updated on Feb 09, 2018 10:23 PM IST
Hindustan Times, New Delhi | By HT Correspondent
Two journalists of the Agence France-Presse - an Indian national and a British citizen of Indian-origin - were arrested by police in the Maldives on Friday for allegedly violating the immigration rules of the island nation that was plunged into turmoil last week by a confrontation between the president and the judiciary.
The Maldives Police, which has rallied behind embattled President Abdulla Yameen, tweeted that the two journalists had been handed over to immigration authorities for "working in (the) Maldives against (the) Maldives Immigration Act and Regulations".
The police did not give other details or name the journalists. The tweet said the immigration authorities would take action against them.
ANI news agency identified the arrested journalists as Money Sharma from Amritsar and Atish Patel from London and reported they had been arrested under the provisions of the emergency imposed by Yameen because of "national security purposes".
Ali Zahir, a Maldivian MP, said: "We don't have freedom of press anymore. Last night one of the leading TV stations was closed."
Zahir demanded the immediate release of the journalists and restoration of democracy and rule of law.
In New Delhi, the external affairs ministry spokesperson information had been received about an Indian national named Money Sharma, working as a journalist, being detained by the Maldivian authorities. "We have asked our embassy to get in touch with the local authorities to ascertain more details of the case," the spokesperson said.
The Maldives was plunged into political uncertainty after Yameen refused to implement a Supreme Court ruling dropping terror charges against former president Mohamed Nasheed and freeing eight imprisoned opposition leaders. He subsequently imposed a 15-day emergency and detained two top judges.
India and the world community have called on Yameen's regime to end the emergency and to resolve the political crisis.
Read | Former Maldives president Nasheed urges 'liberator' India to send military, resolve crisis
Close Story