Even Himalayas can't stop China, India if there is political trust, says foreign minister Wang Yi
Updated on Mar 20, 2018 09:32 PM IST
Foreign minister Wang Yi said China is willing and ready to inherit and take forward the traditional friendship and be a friend and partner of the Indian people.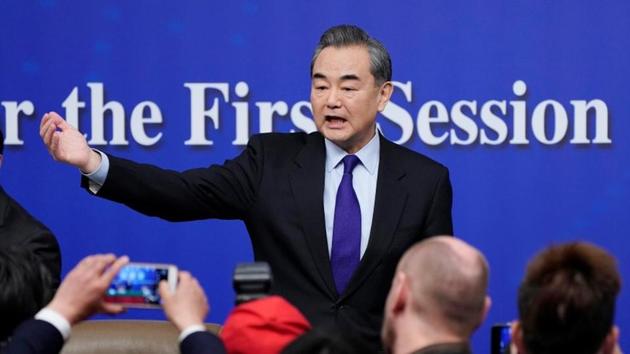 Hindustan Times, Beijing |
Sutirtho Patranobis
China and India should shed their "mental inhibitions" to manage differences and meet each other half way to strengthen bilateral ties, foreign minister Wang Yi said on Thursday, putting a positive spin on ties that was in marked contrast to the tensions caused by last year's standoff at Doklam.
Wang said the two countries must do everything to focus on changes in the global situation and support each other while avoiding mutual suspicion and attrition. "Mutual trust",he said, is the most precious commodity in bilateral relations.
"With political trust, not even the Himalayas can stop us from friendly exchanges," he said during a two-hour news conference on the sidelines of the annual session of the National People's Congress (NPC), China's legislature, while outlining Beijing's foreign policy perspectives.
Speaking about the road ahead, he said: "Chinese and Indian leaders have developed a strategic vision for the future of our relations. The Chinese dragon and Indian elephant must not fight each other but dance with each other.
"If China and India are united, one plus one will become eleven instead of two," he added.
At last year's news conference, Wang had evaded a question on ties with India amid tensions over several issues such as the China-Pakistan Economic Corridor and China's opposition to India's entry into the Nuclear Suppliers Group.
At Thursday's event, he answered a question on how China views its ties with India this year after the turbulence in 2017 caused by the Doklam standoff and other issues. "Despite some tests and difficulties, the relationship continues to grow," he said.
Wang added: "China is upholding its rights and legitimate interests and taking care to preserve the relationship with India...I hope the two sides will be free from mental inhibitions and meet each other halfway. Let us replace suspicion with trust, manage differences with dialogue and build a future with cooperation."
His reaction was sharper when he was asked whether the Indo-Pacific strategy floated by India, the US, Japan and Australia will affect China's Belt and Road Initiative (BRI), the multi-billion dollar connectivity project that aims to connect China with the rest of Asia and beyond.
He said there was "no shortage of headline grabbing ideas" but they were "like the foam on the sea" that "gets attention but will soon dissipate". Wang said that contrary to claims that the strategy is aimed at containing China, the four countries have made it clear that it targets no one.
"Let us not forget the BRI has received the support of over 100 countries. Nowadays stoking a new Cold War is out of sync with the times and inciting confrontation will find no market," he said.
Last year's border row at Doklam (called Donglang by the Chinese) near the Sikkim border, where border troops from the two sides were locked in a standoff for more than 70 days, took ties to a fresh low. Doklam is under China's control but claimed by Bhutan, and Indian troops intervened when Chinese troops began building a road in the area.
Wang said: "A shared understanding far outstrips our differences. Our common interests far outweigh our frictions. China is willing and ready to inherit and take forward our traditional friendship and be a friend and partner of Indian people."
Commenting on Sino-India ties, a leading expert on India said it would be unnatural to expect that the two countries will not have differences.
"Sino-India relation now is more like Sino-US relations: engagement with competition, with problems and even with rivalries. This is the new normal of the China-India ties. It is not natural to expect that Asian giants can live without problems. But, we still have to cooperate reducing the cost of rising at the same time," said Hu Shisheng , director of the Institute of South and Southeast Asian and Oceania Studies at the China Institutes of Contemporary International Relations.
"At the same time, we have to maintain the general stability of the bilateral relations because we have to focus on our priorities, which is development," Hu said. "We must maintain friendly engagement amid more and more tussles."
Personalise your news feed. Follow trending topics