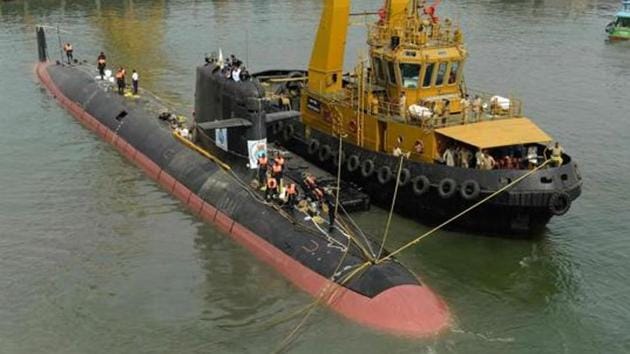 INS Kalvari submarine commissioned but Indian Navy's sub-sea power is below par
INS Kalvari was commissioned into Indian Navy's fleet on Thursday after a delay of five years but the country needs to push harder to meet the target of building 24 submarines by the year 2030.
UPDATED ON DEC 15, 2017 02:42 PM IST
Almost 18 years after the country cleared an ambitious submarine-building programme to scale up its undersea warfare capabilities, Prime Minister Narendra Modi commissioned India-built INS Kalvari into the navy in Mumbai on Thursday.
It is the first conventional submarine to join the naval fleet in 17 years.
INS Kalvari is the first of six Scorpene submarines being built at Mazagon Dock Shipbuilders Limited (MDL) in Mumbai, under licence from French firm Naval Group, previously called DCNS. The submarine should have been inducted into the navy more than five years ago but problems relating to transfer of technology led to missed deadlines in the ~23,562-crore programme called Project-75.
The navy hopes to induct the remaining five diesel-electric attack boats by 2020.
Military affairs experts said the commissioning of INS Kalvari would be a significant milestone in the navy's submarine-building programme but the country needs to push harder to meet the target of building 24 submarines by 2030.
The government set this target in 1999 to sharpen the navy's underwater prowess.
The navy commissioned INS Sindhushastra in July 2000, but the Kilo-class submarine imported from Russia wasn't part of the 1999 plan. INS Kalvari is the second submarine to roll out of MDL after the yard built INS Shankul, a German HDW Type 209 boat commissioned in May 1994.
"Project-75 has finally come to fruition and that's great news. But we have a long way to go in terms of establishing undersea dominance," said Sudarshan Shrikhande, a retired rear admiral.
According to him, modern submarines have high combat effectiveness compared to boats built in the '60s and '70s. "The navy would need several dozens of these boats in the coming decades and we need to move very fast."
The Scorpene submarines are expected to become the mainstay of the Indian fleet, replacing the ageing Russian Kilo-class and German HDW vessels that are almost three decades old.
India operates a fleet of 14 conventional submarines, including INS Kalvari, nuclear-powered attack boat INS Chakra leased from Russia and INS Arihant, the homegrown submarine that can launch nuclear ballistic missiles.
The commissioning of INS Arihant last year completed India's nuclear triad or the ability to launch strategic weapons from land, air and sea.
The second Arihant-class submarine, called INS Arighat, was reportedly launched in November and is likely to join the naval fleet in 2021. Navy officials are not authorised to speak about the secret programme to build nuclear ballistic missile submarines.
India plans to deploy four Arihant-class boats to reinforce India's strategic deterrent force at sea. This endeavour does not come under the 1999 submarine-building plan.
India's sub-sea power is way behind China's. The neighbour's underwater capability is far superior with more than 60 diesel-electric attack submarines and a mix of 10 nuclear attack submarines and nuclear ballistic missile submarines.
It will not be easy for India to match the Chinese underwater fleet in the near future, said retired Commodore C Uday Bhaskar, the director of Society for Policy Studies.
"We have to focus on using our underwater capabilities in a more innovative manner to meet the desired political objectives," he said.
The navy has set the ball rolling for building another six advanced conventional submarines in the country under Project-75I as part of the overall scheme to deploy a robust underwater force.
Under the Rs 60,000-crore programme, the vessels will be built by an Indian yard in collaboration with a foreign defence contractor under the defence ministry's strategic partnership model. It seeks to bring high-end military technology into the country for manufacturing cutting-edge military equipment.
But the project remains on the drawing board, despite the defence ministry granting "acceptance of necessity" for the submarines a decade ago.
"The submarine fleet is well below desired levels. And that's because of poor policies at the highest levels of the government," Bhaskar said.
The navy sent a request for information to half-a-dozen foreign manufacturers this July seeking details to build submarines in India. With acquisition of weapons governed by a detailed set of standards, inking a final contract could take several years.
"As far as Project-75I is concerned, little progress has been made in the past 10 years. That's the sad tale of weapon acquisition in India," said a retired navy chief, who did not wish to be identified.
Bigger than the Scorpene, the Project-75I submarines will be equipped with air-independent propulsion systems to increase their submerged endurance to nearly three weeks. Conventional submarines have to surface almost every second day to operate their air-breathing diesel engines, running the risk of detection.
The Project-75I boats will also have land attack missile capability.
At his annual Navy Day press conference on December 1, navy chief Admiral Sunil Lanba announced that India's plan to build nuclear-powered attack submarines was taking shape. "The process has started," he said, without disclosing details.
The government approved the plan to build six nuclear-powered submarines in 2015, tweaking the 30-year submarine-building programme approved by the Cabinet Committee on Security in 1999.
That plan laid the roadmap for inducting 12 conventional submarines by 2012 followed by an equal number before 2030.
"Our priority is to have a fleet of 18 new conventional submarines and six nuclear-powered boats," a senior navy officer said.
While Project-75 and Project-75I are expected to churn out 12 diesel-electric boats, six more submarines are planned under the yet-to-be announced programme Project-76.
"The best practices of Project-75 and Project-75I will dictate the design of the newest boats under Project 76," the officer said.
(This is the first of a five-part series on India's military mettle.)
Close