ISRO launches India's heaviest rocket GSLV Mk III, hopes it can carry humans into space
Jun 05, 2017 11:53 PM IST
The GSLV Mk III rocket carried a satellite weighing more than three tonnes into a high orbit above Earth, a landmark achievement as India had struggled to match the heavier payloads of other space giants.
India successfully launched its heaviest-ever rocket GSLV-Mk III on Monday which it hopes will eventually be able to carry astronauts into space, a feat that only Russia, the United States and China have achieved, space agency ISRO said. (Highlights)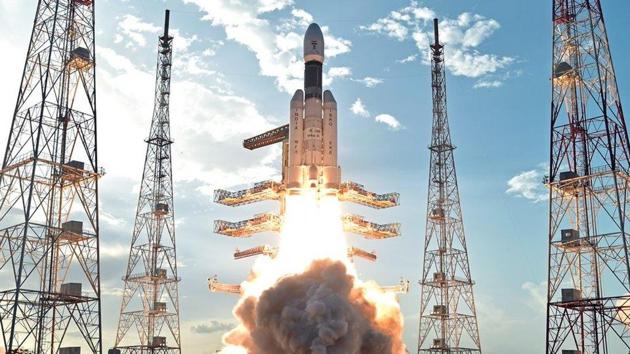 The Indian Space Research Organization said the 43-metre (140-foot) Geosynchronous Satellite Launch Vehicle Mk III rocket lifted off at 5:28 pm from the space launch centre in Sriharikota, an island off the coast of Andhra Pradesh, and placed a communication satellite into orbit.
Scientists hugged each other and cheered as the 640-tonne rocket lifted off.
The space agency's director, AS Kiran Kumar, said it is the heaviest rocket and satellite to be launched from India. The rocket is powered by an indigenous engine that uses liquid oxygen and liquid hydrogen as fuel, he said.
In the past, India has used French rockets to launch its heavier communication satellites.
Indian space scientists worked "relentlessly for decades and for this project since 2002 to successfully put the satellite into orbit", Kumar said. "This is a historic day for ISRO."
Read | ISRO launches GSLV-MK III: Scientists call India's heaviest rocket 'Bahubali'
India hopes the launch of the satellite, which weighs 3,136 kilograms (6,914 pounds), will expand its commercial launch business.
The rocket boasts a powerful engine that has been developed in India over many years. Programme managers hope to reduce reliance on European engines that have propelled some of India's spacecraft in the past.
Prime Minister Narendra Modi congratulated the scientists on Twitter.
"The GSLV - MKIII D1/GSAT-19 mission takes India closer to the next generation launch vehicle and satellite capability. The nation is proud!," Modi tweeted.
The launch is the latest in a string of successes for the Indian space agency. In February, it launched a record-breaking 104 nano satellites into orbit, all onboard a single rocket. In November 2013, India launched a space probe that has been orbiting Mars since September 2014.
The GSLV Mk III rocket carried a satellite weighing more than three tonnes into a high orbit above Earth, a landmark achievement as India had struggled to match the heavier payloads of other space giants.
"This is an important moment in India's space technology, to launch an indigenous heavy rocket," Ajay Lele from the Delhi-based Institute for Defence Studies and Analyses said.
"Communication satellites are quite heavy and we were (only) able to send up to two tonnes previously. This is a double quantum jump for India."
The GSAT-19, says ISRO, is a multi-beam satellite that carries Ka and Ku band forward and return link transponders and geostationary radiation spectrometer (GRASP) to monitor and study the nature of charged particles and the influence of space radiation on satellites and their electronic components.
The satellite, which has a life span of 10 years, also features certain advanced spacecraft technologies including miniaturised heat pipe, a fibre optic gyro, micro electro-mechanical systems (MEMS) accelerometer, Ku-band TTC transponder, as well an indigenous lithium-ion battery.
The GSLV-Mk III is a three stage/engine rocket. The core of first stage is fired with solid fuel and its two motors by liquid fuel. The second is liquid fuel and the third is the cryogenic engine.
Reaching for the stars
India is vying for a larger slice of the booming commercial satellite business as phone, internet and other companies seek expanded and more high-end communications.
Although India has successfully launched lighter satellites in recent years, this latest rocket is capable of carrying a massive four-tonne payload into high orbit -- twice the capacity of its predecessor, ISRO says.
The space agency tested a less-developed version of the rocket in December 2014 while the cryogenic engine was still in the testing phase.
It carried an unmanned crew capsule which separated from the rocket and splashed down in the Bay of Bengal off India's east coast 20 minutes after lift off.
The Indian-made capsule was designed to carry up to three astronauts but ISRO said it would take at least another seven years to reach the point where a crew could be put into space.
India wants to become the fourth nation -- after Russia, the United States and China -- to put astronauts into orbit but its manned spaceflight programme has experienced multiple stops and starts.