As it happened: Militants attack army camp in Uri
Militants believed to be from Fidayeen squad attacked an army camp in Uri, Baramulla in north Kashmir on Sunday.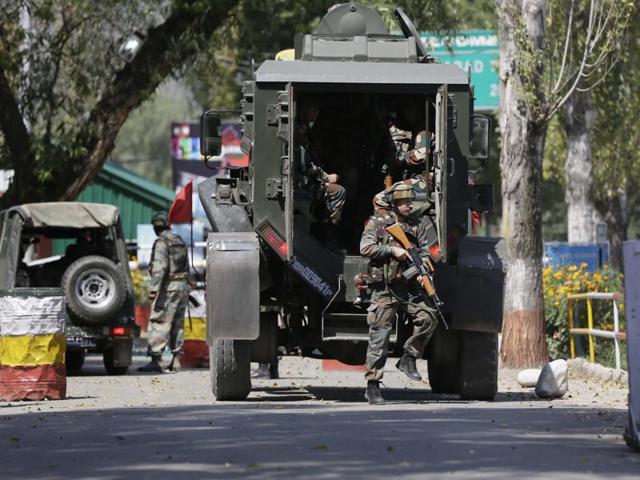 Updated on Sep 19, 2016 01:46 AM IST
What we know so far:
-- 17 soldiers killed in one of the deadliest attacks on Indian Army
-- Four militants confirmed killed after penetrating the base in Uri near the Line of Control with Pakistan
-- The dawn raid surprised soldiers in their sleep; militants set fire to one building before the four were killed in a gunfight
-- Home minister Rajnath Singh has spoken to political and military leadership and instructed senior officials to monitor the situation after cancelling planned trips to Russia and the United States
Militants attacked an Indian Army brigade headquarters in Jammu and Kashmir's Uri on Sunday, killing 17 soldiers in the most deadly such attack in the northern region of Kashmir in recent years.
Four militants were confirmed killed after penetrating the base in Uri near the Lin e of Control with Pakistan, an army spokesperson said.
The attack began at 5.30am in the morning and militants breached the perimeter fence to enter the camp.
As it happened:
10:00pm: Jammu and Kashmir governor NN Vohra and chief minister Mehbooba Mufti chaired a high-level meeting at Raj Bhavan in Srinagar to review the security situation.The governor observed that in the background of the Poonch and Uri terror attacks, it was of crucial importance to enhance surveillance on the security of all vital civil and military establishments in the state.
9:50pm: Security has been beefed up in Himachal Pradesh and an alert sounded following the terrorist attack.
9:20pm: BJP's Ram Madhav says Western countries have recognized the fact that most of the global terror has been emerged for Pak
9pm: Defence minister Manohar Parrikar said he reviewed the situation in Kashmir following the Uri attack. "Instructed to take firm action against those responsible," he tweeted.
8:30pm: An alert has been sounded in Punjab's border districts of Pathankot and Gurdaspur. Tight vigil is being maintained near key installations including the Pathankot airforce base, which came under attack by militants earlier this year, and near India-Pakistan border areas.
"An alert has been sounded in border districts of Pathankot and Gurdaspur in light of the terror attack in Uri," Pathankot SSP Rakesh Kaushal said.
7:20pm: Union home secretary Rajiv Mehrishi will visit Srinagar on Monday to review the security situation.
Following a directive of home minister Rajnath Singh, Mehrishi will visit Srinagar and attend a series of meetings with officials of the state government, army, police and paramilitary force and take stock of the situation in the state, official sources said. He is also expected to meet governor NN Vohra and chief minister Mehbooba Mufti.
7:00pm: Anti-Pakistan protests rocked Jammu and Udhampur districts against the killing of 17 jawans.
5:59pm: Defence minister briefed at Badami Bagh cantonment, will now visit the Army Hospital.
5:36pm: J&K chief minister Mehbooba Mufti and governor to meet the heads of security forces and intelligence agencies at Raj Bhavan today to review security situation: ANI
5:03pm: Defence Minister has landed in Srinagar & is being briefed by Army Chief about the ground situation: DGMO
5:02pm: All intelligence agencies&security forces are working in close synergy & necessary action is being taken agnst various inputs received: DGMO
4:56pm: I assure u that Indian army is prepared for any evil design by the adversary, & will give a befitting response: DGMO Lt Gen Ranbir Singh
4:52pm: We recovered 4 AK 47 rifles, 4 Under Barrel Grenade Launchers and other war like stores from the 4 slain terrorists: DGMO
4:39pm: Since terrorists had some items which had Pak marking on that,I've spoken to Pak DGMO on same raising concern: DGMO
4:37pm: All killed terrorists in Uri attack were foreign terrorists and initial reports suggest they were from JeM: DGMO Lt Gen Ranbir Singh
4:25pm: Army chief General Dalbir Singh back in Srinagar after visiting Uri: HT reporter
4:09pm: We don't believe that it is a terrorist attack, it is planned attack by Pak: Sanjay Raut, Shiv Sena
4:08pm: Strongly condemn outrageous terrorist attack on Army base in Uri; tributes to brave soldiers who made supreme sacrifice: PresidentMukherjee
3:37pm: Strongly condemn UriAttack. Attack seems to be aimed at triggering fresh violence and creating a war-like situation in the region, says J-K CM: ANI
3pm: Army chief Gen Dalbir Suhag on his way to Uri: HT reporter
2: 45pm: US strongly condemns UriAttack. Our thoughts are with families of soldiers who lost their lives, says US ambassador to India Richard Verma: ANI
2:25pm: Home minister Rajnath Singh calls Pakistan a terrorist state and says it should be identified and isolated as such.
2:15pm: Terrorist groups are just front;these attacks are planned by ISI&Pak army.It's state-sponsored attack:Former home secretary RKSingh.
1:50pm: Home ministry and defence ministry officials leave home minister's residence after the high level meeting: ANI
1:38pm: Army chief reaches Srinagar, likely to go to Uri in sometime: HT reporter.
1:33pm: CPM leader Sitaram Yechury condemns Uri attack, says Pakistan must refrain from indulging in cross border terrorism and the matter should be taken up seriously: ANI
1:30pm: Prime Minister Narendra Modi condemns Uri attack, says he has spoken to the home minister and defence minister to take stock of the situation.
1:19pm: Army chief General Dalbir Singh reaches Srinagar, will meet soldiers injured in Uri attack.
12:57pm: At least nine injured soldiers are critical, says HT reporter from Srinagar quoting sources. Death toll might rise.
12:52pm: Home minister Rajnath Singh chairs high level security meet. NSA, Home Secy,IB Chief present.
12:49pm: Bodies of all four militants have been recovered, reports HT correspondent.
12:48pm: Congress President Sonia Gandhi expressed shock and deep distress over the martyrdom of Indian soldiers in the dastardly terrorist attack in Uri. Describing the cowardly terror attack as a "deplorable affront on our national conscience", Gandhi expressed hope that the perpetrators of this dastardly attack as also the forces behind them would be severely dealt with and brought to book.
12:28pm: Northern and western Commands of the Army and the BSF sound high alert along 744 km long LoC and 198 km International Border in Jammu and Kashmir: HT reporter
While army and BSF have upped security on the borders, army formations and bases wil be further fortified following today's attack, said an army officer in Jammu.
This attack has obviously compelled us to have a thorough re-look at all the army formations and bases and a detailed security audit will be conducted shortly, he added.
12:10pm: Defence minister and the Army chief will be reaching Srinagar in sometime. Initial meeting will be held in Srinagar after which they will fly to Uri: HT reporter.
12:08pm: Around 30 soldiers have been injured in the attack, many ot them seriously, says HT reporter. The injured have been brought to army base hospital in Srinagar.
12:04pm: Home Minister Rajnath Singh has briefed PM Narendra Modi on Uri encounter, reports ANI.
11.54am: Ministry of home affairs issues alert for all airports across the country in wake of the terrorist attack in Uri.
11:40am: Northern Command chief Lt Gen DS Hooda has rushed to Srinagar following the attack Uri army base.
"Army chief Gen Dalbir Singh is also reaching Srinagar and from 15 Corps headquarters he along with Gen Hooda will be flying to Uri," said defence spokesperson Col SD Goswami.
11:36am: Congress vice president Rahul Gandhi condemns Uri attack.
11:35am: One battalion was being moved and another was taking over, most soldiers in transit were staying in tents. The tents caught fire in the initial stages of the attack. Sources say 12 casualties occurred due to fire and others lost life in gunfight with militants.
11:20am: Indian Army statement: "On the early hours of 18 September 2016, a group of heavily armed terrorists targeted the rear administrative base of a unit at Uri, Kashmir. In the counter action, four terrorists have been eliminated and combing operations are in progress. The administrative base had large strength of troops of units turning over after their tour of duty who were stationed in tents/temporary shelters which caught fire, and resulted in heavy casualties. We salute the sacrifice of 17 soldiers who were martyred in the operation."
11:01am: Defence Minister Parrikar to visit Srinagar today in wake of the terror attack in Uri (J&K), reports ANI.
11am: 17 soldiers killed in Uri terror attack: Army's Northern Command, reports PTI. The army death toll is the worst in Kashmir since a raid in December 2014, also near Uri, in which eight soldiers and three police were killed.
10:59am: Army Chief Gen Dalbir Singh to visit Kashmir in the wake of terror attack in Uri, PTI reports.
10:15am: All four terrorists gunned down by Army, who attacked Rear Base of one of the unit deployed at Uri (J&K). Search operation on, army sources said.
10:10am: An army spokesperson said four militants have been killed in the Uri terror attack, reports PTI.
9:57am: High level security meet to take place at HM Rajnath Singh's residence at 12:15pm, senior MHA and MoD officials to attend the meet, reports ANI.
9:25am: Security forces have strengthened security in Uri and on roads connecting the Line of Control (LoC).
9am: Jammu and Kashmir governor NN Vohra and chief minister Mehbooba Mufti apprise Rajnath Singh regarding the situation in Uri.
Singh also instructed home secretary and other senior officers in Ministry of home affairs to closely monitor the situation in Jammu and Kashmir, ANI reported.
8:50am: Rajnath Singh calls an emergency meeting as the encounter in Kashmir army camp continues.
8:25am: Two army personnel killed in Uri attack, senior Jammu and Kashmir police official confirms. Of the 6 injured, one is in a critical condition.
8:10am: Home minister Rajnath Singh postpones his visit to Russia and US because of Kashmir encounter.
8:00am: Army's special forces had airdropped in Uri where the encounter was on.
The Army has sent three choppers from army's 19 divisional headquarters in Baramulla to Uri, ANI reported.
7:50am: 6 army personnel were reported to be injured in the attack.
7:30am: News agency ANI said 3-4 militants were suspected to be involved in the attack.
7:15am: A police officer said militants sneaked into the army camp in Uri town before dawn and used guns and grenades to target the soldiers.
7:00am: Police sources said some barracks caught fire in the encounter. The number of militants involved in the attack is not known yet.
Police sources told HT that reports of increased infiltration since the summer unrest have been coming from the area, which is close to the Line of Control (LoC).
Uri, a town west of Srinagar, houses the Indian Army's brigade headquarters in the region along the de facto border.
Kashmir has witnessed violent protests since the July 8 killing of a popular rebel commander by security forces.
Read | Despite injuries, Kashmir pellet victims stay defiant, yearn for 'azadi'
(With inputs from agencies)
Close Story
Personalise your news feed. Follow trending topics