Jharkhand panchayat tonsures villager for wife's 'immorality'
Police said investigation into the incident has started and the guilty persons will be arrested soon.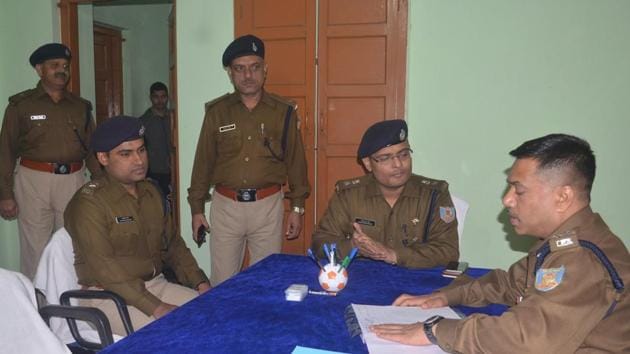 Updated on Dec 07, 2017 06:09 PM IST
Hindustan Times, Dhanbad |
Subhash Mishra
Dhanbad:
A panchayat in Jharkhand allegedly tonsured a villager, smeared cow dung on his face, tied a garland of shoes round his neck and paraded him in the village led by a music band.
The kangaroo court in Dhanbad district handed down the punishment after neighbours of the victim moved the panchayat, an elected body, raising questions about his wife's character.
The Incident occurred in Ankhdwara village near Kalubathan out post (OP) in Nirsa block, around 40 km from the district headquarters, on Wednesday evening.
The 28-year-old victim, Gopal Kumbhkar, who works as daily wager in Gujarat, filed a complaint with the Kalubathan out post.
"Panchayat Mukhiya Shisti Singh has been named as the accused and other villagers co-accused. The police have started investigation and guilty persons would be arrested soon," officer in-charge of the police outpost, Sachitanand Sahu, said on Thursday.
Gopal has charged that Mukhiya Shasti Singh came to his house at around 10am on Wednesday and took him on his bike to his house in the pretext of "some personal work."
Over a dozen people were already waiting for them at his residence.
Then on Singh's directive, the people present got his head tonsured. A local music band was called in as he was taken around the village.
"The Mukhiya accused my wife, a mother of two, of being immoral and charged me of failing to keep her under check. I requested him to let me go free, but he would not budge," Gopal told Hindustan Times.
Singh however denied his role in the incident and said it was the villagers who punished the man based on complaints of his neighbours.
"I had no role in it. As part of a political conspiracy my name has been dragged in the FIR," Singh said.
The Mukhiya, however, raised questions about the woman's character saying she was in a relationship with one of her husband's friends.
"For the first time, this dispute surfaced six months ago when her husband's friend staked claim to her second child," Singh added.
Dhanbad District Board chairman Robin Gorai condemned the incident saying legal action would be taken against Singh and other Panchayat members.
"No Mukhiya is empowered to take law into his hands. Under social practices, it is Sarpanch not the Mukhiya has the power to fine an offender Rs 100 or make him nil down," said Gorai.
Close Story