Jodhpur: Ram Navami tableau celebrates Shambhu Lal Regar, who allegedly murdered Afrazul
Updated on Mar 27, 2018 03:25 PM IST
Shambhu Lal Regar allegedly hacked and burnt Mohammed Afrazul, a labourer from West Bengal, in Rajsamand in December last year. A video of the act recorded by Regar's nephew went viral.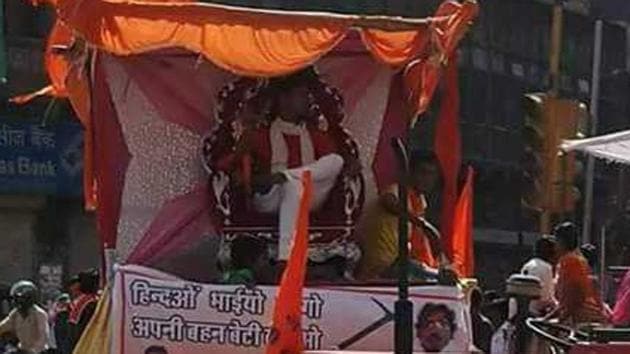 Hindustan Times, Jodhpur |
Salik Ahmed
Shambhu Lal Regar, who is in the Jodhpur jail for allegedly hacking and burning a Muslim labourer, was honoured with a tableau during Ram Navmi celebrations in the city on Sunday.
Pictures of a procession organised to celebrate the birthday of Lord Ram have surfaced on social media, with a banner hailing Regar as "the one who curbed love jihad".
After he allegedly murdered Mohammed Afrazul in December, Regar uploaded a series of videos, including the one of the crime, on social media, ranting against Muslims and accused them of "entrapping" Hindu girls to covert them to Islam -- a charge often levelled by right-wing Hindu groups.
Read: A month after Afrazul was hacked to death, a look at his journey from Malda to Rajsamand
"I just wanted to express my regard for Regar. His commitment towards Hinduism inspired me. There was no intention to hurt anybody's sentiments," said Hari Singh Panwar, who organised the tableau and is the co-treasurer of Shiv Sena's Jodhpur chapter.
Deputy commissioner of police (Jodhpur East) Amandeep Singh said on Tuesday they learnt about the tableau from media reports but had not received a complaint. "If we receive one, we'll act accordingly," Singh said.
The murder of Afrazul, who hailed from West Bengal, caused nation-wide outrage, with chief ministers of both Rajasthan and Bengal condemning the incident.
In the pictures of the tableau, a man who bears a striking resemblance to Regar is seen seated on a throne-like chair with a pickaxe in his hand. He is dressed in clothes similar to what Regar was wearing when he allegedly committed the murder.
Read: Rajsamand 'hate crime': Man linked Muslim labourer Afrajul's murder to love jihad to hide affair
A banner calls upon "Hindu brethren to protect their sisters and daughters and liberate the country from love jihad". It also has a photo of Panwar and a bigger picture of Regar.
Asked about the murder charge against Regar, Panwar said he would not comment on a sub judicious matter. "The law comes first but Regar awakened devotion for their faith among Hindus and also made them aware about love jihad," he said, demanding a law against the so-called love jihad.
Regar had an illicit relationship with the woman he referred to as the "Hindu sister" in the video, police have said in the charge sheet.
He might have raised the love-jihad bogey to cover for the murder that was driven by jealousy as Regar was upset over the woman keeping in touch with a labourer with whom she had allegedly eloped years ago. The labourer, too, was from West Bengal.