Justin Trudeau likely to affirm Canada govt's belief in unity of India
Feb 16, 2018 07:22 AM IST
Sources said Justin Trudeau, whose Liberal Party government is considered as one that has often pandered to separatist elements, will underscore that there is official sanction for the Khalistan movement in Canada.
Canadian Prime Minister Justin Trudeau is likely to affirm his government's belief in the unity and integrity of India in the course of public remarks during his weeklong visit to the country beginning on February 17.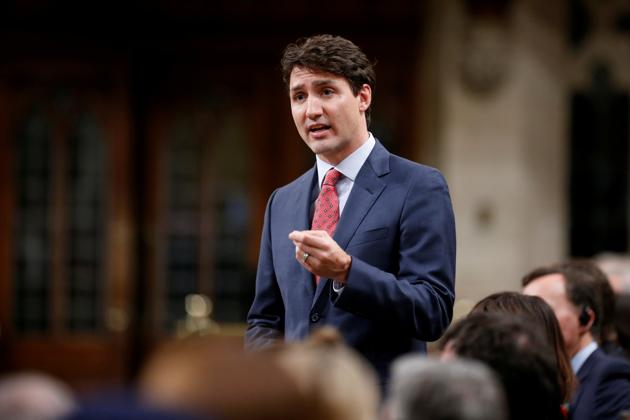 This is of significance since Trudeau's Liberal Party government is considered in New Delhi as one that has often pandered to separatist elements in Canada.
While Trudeau is unlikely to directly refer to the Khalistan movement, his statement will be aimed at underscoring the point there is no official sanction for it in Ottawa, according to sources.
In effect, Trudeau is expected to reiterate a position first taken by his predecessor, Stephen Harper, at a dinner reception in Vancouver for Prime Minister Narendra Modi, when the latter undertook a bilateral visit to Canada in 2015.
Even as the Canadian government is trying to use the high-profile visit by Trudeau to address this major irritant in bilateral ties, New Delhi will privately make clear the problem it has with what it believes is a "soft" stand taken by Ottawa, leading to the empowerment of extremists.
This was evident in 2017, and led to a very rocky phase in the relationship. A motion moved by a Liberal Party member in the Ontario legislature described the 1984 anti-Sikh riots as "genocide". Trudeau himself appeared at a Khalsa Day event in Toronto, which was shunned for many years by other Canadian prime ministers.
And the past year ended with a group of Canadian gurdwaras barring Indian officials from their premises, sparking similar moves in the US, the UK and Australia.
This issue will also figure in the meeting between the two prime ministers. The Modi government is unhappy with the stock Canadian response that freedom of expression guaranteed by the country's charter prevents it from clamping down on speech related to seeking a separate Sikh homeland.
Two Indo-Canadian ministers in Trudeau's cabinet, Harjit Sajjan and Amarjeet Sohi, have already distanced themselves from the separatist issue ahead of the India visit. This stand has irked hardline groups.
The activist Sikhs for Justice, for instance, accused the two ministers of attempting to "appease" the Indian government and warned them of repercussions in the 2019 federal elections. It has also started a signature campaign directed at Trudeau to "remind" the Modi government that "campaigning for Khalistan is not terrorism".