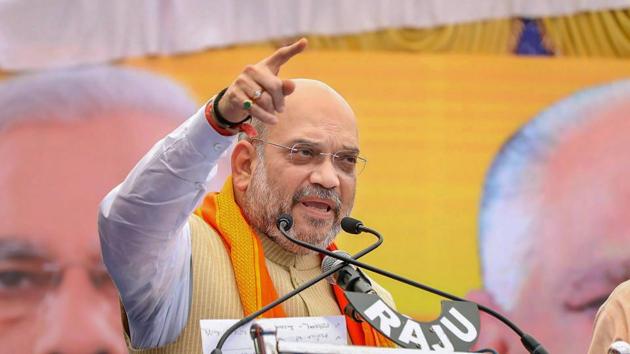 Karnataka elections: Congress moves EC against Amit Shah, BJP leaders over model code violations
The opposition party has also asked the Election Commission to conduct a time-bound probe into the matter.
UPDATED ON APR 02, 2018 10:35 PM IST
The Congress on Monday urged the election commission (EC) to take action against Bharatiya Janata Party (BJP) chief Amit Shah and the party's Karnataka president BS Yeddyurappa for violating the model code of conduct by allegedly offering Rs5 lakh to the family of a deceased person on Friday, according to a memorandum submitted by a Congress delegation to the poll panel.
The principal opposition party also asked the EC to conduct a time-bound probe into the matter.
Senior Congress leader Abhishek Manu Singhvi, who led the delegation to the election commission, identified the deceased person as "Mr Raju" who he claimed was a BJP activist, killed in Mysuru in March 2016.
Singhvi raised questions over the timing of the aid allegedly offered when Shah, union minister Ananth Kumar and Yeddyurappa visited Raju's family, three days after the EC announced the schedule for the Karnataka assembly polls.
The delegation also submitted a memorandum to the poll watchdog, accusing the BJP of using money to influence voters in Karnataka, and resorting to "desperate measures, foreseeing its inevitable defeat" in the upcoming polls on May 12.
The BJP has already denied the charge, saying Shah did not give any money to Raju's family.
"Shah and Yeddyurappa, who has been given the title of 'No 1 Corrupt Leader' (by Shah himself), have blatantly and shamelessly violated the model code of conduct and committed the offence of influencing voters by giving a cheque of Rs5 lakh to Raju's family with the sole intent of influencing votes of his family members," read the memorandum.
"The EC must intervene and initiate action against Shah and Yeddyurappa," the memorandum added.
Singhvi, in the document, claimed that Raju had died two years ago. "This is a very strange and suspicious event. Is this compassion and concern suddenly awakened because the EC has notified election in Karnataka on 27th of March?" he told reporters after meeting chief election commissioner OP Rawat.
Close