Karnataka elections Highlights: Modi says BJP promises development, Siddaramaiah believes in superstition
Karnataka Assembly Elections 2018: Prime Minister Narendra Modi and BJP chief Amit Shah are spearheading the party's campaign in the state. Live updates.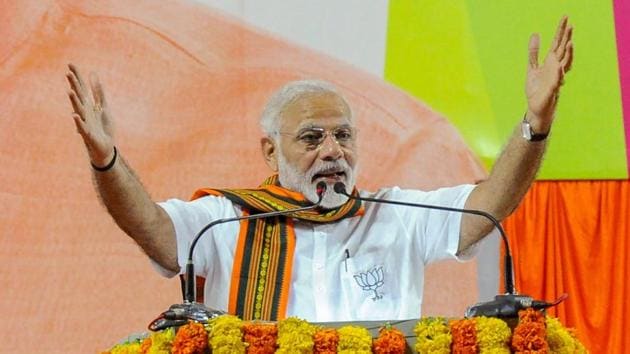 Updated on May 06, 2018 08:03 PM IST
Hindustan Times, New Delhi |
HT Correspondent
Prime Minister Narendra Modi and BJP president Amit Shah spearhead the party's assembly election campaign with several rallies across Karnataka on Sunday. The campaign heats up between the Congress and BJP with allegations and counter-allegations flying thick and fast ahead of the May 12 elections.
Here are the live updates:
7.19pm: "On one hand, we are promising development while, on the other hand, the present Karnataka CM believes in superstition. Everyone knows what happened when a crow sat on his car," PM Modi says.
7.15pm: "We opened up Pradhan Mantri Jan Aushadhi Kendras to provide affordable medicines, reduced the prices of stents, brought the Ayushman Bharat Yojana so that the vulnerable families get health assurance," PM says.
7.11pm: "Youth in villages should benefit from long-distance education, farmers should get information digitally. That is why we are giving impetus to the Digital India drive and connecting India's villages through optical fiber network," PM Modi says.
7.08pm: "There were around 18,000 villages which did not have electricity since independence. We ensured power to all such villages in a time frame of just 1000 days. Now through the Saubhagya Yojana, we want to ensure power supply in every household," Modi says.
7.07pm: "We are connecting distant places with airways, we are expanding the aviation sector. We want the common man to travel in airways," says PM Modi.
7.01pm: "Congress President Rahul Gandhi and Sonia Gandhi Ji must answer people why they are out on bail," says PM.

6.59pm: "Congress leaders are caught with large stashes of cash and when our government takes action, they keep saying that Modi is vindictive," says PM Modi.
6.56pm: "We want to build a New India where children get good education, youth get jobs, elderly get proper healthcare and where there is no discrimination on the lines of caste," says PM.
6.52pm: "Congress neither cares about the present nor the future of Karnataka. What it cares most is about remaining in power," says PM Modi.
6.49pm: PM Modi addresses a public meeting in Hubli.
4.55pm: "I do not understand why the Congress mocks noble initiatives like Beti Bachao, Beti Padhao, building toilets and other welfare measures being undertaken for women," PM Modi says.
4.51pm: "We are committed to give impetus to the textile sector in Karnataka. We have also come up with a SAATHI scheme for the weaver community," says PM.
4.48pm: "I urge people of Bagalkot to ask a question to the present Karnataka CM. Ask him about his promise of textile parks. Ask him what happened to that promise. Is there a single textile park here? He did not fulfill his promises," PM says.
4.35pm: "To ensure farmer welfare, we have brought the most comprehensive Pradhan Mantri Fasal Bima Yojana," PM modi says.
4.29pm: "Look at the plight of sugarcane farmers in Karnataka. Congress government and the present chief minister are insensitive towards them. They did nothing for their welfare," PM Modi says.
4.28pm: "People of Karnataka are well aware of Congress' thinking towards Bhagwaan Basaveshwara. They only recall his name as elections are nearing. It was during Atal ji's leadership, that a statue of Bhagwaan Basaveshwara was put up in the Parliament," PM says.
4.22pm: "I urge people of Karnataka to remain vigilant and beware of the divisive politics of the Congress. We will not accept any division of Karnataka on the grounds of caste," PM Modi says.
4.18pm: Modi says, "In a democracy, to win or to lose is a part of elections. One must accept their defeat. But the Congress are 'Naamdaars'. They did not congratulate us, the 'Kaamdaars'. Such is their arrogance that they even did not pay a courtesy call to the President upon his win."
4.13pm: "Shamelessly the Congress questioned the valour of our armed forces when they conducted the surgical strikes," says PM Modi.
4.09pm: "Bagalkot is the land of the brave. People from this land fought for independence. We are proud of all those who sacrificed their lives for our country but sadly, a few people feel uncomfortable when they hear the National Song," PM Modi says.
4.00pm: PM Narendra Modi begins address at a public meeting in Jamakhandi of Bagalkot district.
2.21pm: When world leaders shake hands with Modi, they see 125 crore people of the country. It's become possible because of a majority government, says the PM, urging the voters to vote for the BJP to help form a majority government in the state as well.
2.19pm: The central government has brought in an ordinance to give death sentence to child rapists, says Modi.
2.18pm: What has the Congress done in Karnataka for water conservation? What efforts have they made towards desilting? Congress is patronising the mining mafia in the state and we need to free Karnataka from this mafia, says the PM.
2.15pm: Union home minister Rajnath Singh holds a roadshow in Bengaluru.
2.12pm: When Sonia Gandhi's government was in power, LED bulb used to be sold at Rs 350. Now in our government, the bulbs are being sold at Rs 50 each. Where were the extra Rs 300 spent? asks Modi at Raichur rally.
2.11pm: The Central government has done a lot of work on solar energy. We want to harness the potential of solar energy in Karnataka as well, says Narendra Modi at Raichur rally.
2.07pm: Farmers are struggling to get water for farming, but the Congress government in the state is extracting cream from water, says the prime minister.
1.59pm: The Congress mindset is against the OBC and Dalits. They are not allowing the government to create the OBC commission. It owes an explanation to the nation on why it is not letting the Parliament function, says the PM.
1.55pm: Modi says the Karnataka government must give an account of the work they have done for the people of the state instead of chanting "Modi, Modi, Modi". They just keep abusing me, he says.
1.53pm: It's time to say goodbye to the Congress in state, says Modi.
1.51pm: Two types of parties are contesting in these elections – one that works for all and another that work for one family. On one side, there is the BJP's development agenda and on the other side is the anti-development Congress, says the PM.
1.46pm: Modi says this election is not about who's winning or not but about future of the state, about the farmers.
1.45pm: Raichur is known for its culture and civility. The Congress has picked up none of these virtues. If they had learnt from the land of Raichur, they would not be dividing Karnataka, says Modi.
1.43pm: The mood of people at the Raichur rally is a reply to those who predicted a hung assembly in Karnataka sitting in AC rooms.
1.41pm: PM Modi addresses a public meeting in Raichur.
1.30pm: Karnataka chief minister Siddaramaiah responds in tweet to BJP chief Amit Shah's remark over Tipu Sultan.
His tweet reads: "Poor @AmitShah you are so desperate. Nothing is working. Tippu, Pakistan etc. do not help you. Tell us about how you betrayed people of North Karnataka after promising to resolve Mahadayi. Basavanna has said "don't tell lies." But the #shahoflies cant help himself!"
11.50am: Congress does not care about people's feelings or Dalits, but only about deals, says PM. If they cannot do welfare, then they should be bid farewell, Modi tells the voters at Chitradurga rally.
11.48am: Modi accuses the ruling Congress leaders in Karnataka of looting the state, including from providing proper facilities in hostels. The longer they stay, the longer they will loot, he says.
11.47am: The time of income-tax raids during elections is questionable. Amit Shah and Modi are behind it, ANI quoted Karnataka CM Siddaramaiah saying.
11.45am: Karnataka chief minister Siddaramaiah takes potshot at opposition leaders, says the Congress will come back to power in the state with full majority, ANI tweets.
11.42am: The Prime Minister thanks Karnataka BJP for its manifesto focusing on housing for the tribal communities.
11.40am: The PM says his government has increased the number of camps held for the differently-abled to 5,000, from 57 that were organised from 1992 to 2014.
11.34am: The central government has strengthened the SC/ST Act and will always work for justice for the SC and ST communities, says Modi.
11.32am: Congress is uncomfortable and is misleading the name of Dalit community because today the highest offices of the land are occupied by people from poor and humble backgrounds.
11.30am: When we had the numbers to play a key role in the election of a President, we did not play party politics. We preferred that Dr APJ Abdul Kalam become the President of India. This time, we had the numbers but we preferred that a person from the Dalit community become the President, says Modi.
11.28am: Go to any part of India, things are named after one family. What did this one family do for Dr Ambedkar? They have no time for him, says the PM.
11.25am: Congress humiliated Dr Babasaheb Ambedkar. Never did they accept Dr Ambedkar, says the PM.
11.26am: Nijalingappa Ji committed one big 'crime' - he questioned some of the policies from the time of Pandit Nehru, says Modi.
11.24am: How can we forget the proud son of this land, Nijalingappa Ji? Why did one family insult him? Because one family cannot tolerate independent leaders emerging in the party, says PM.
11.21am: It is in the nature of Congress to insult very senior leaders, says PM.
11.20am: Sadly, Congress forgets these brave women and men of history. Just because of vote bank politics. Look at the Congress, leaders whom they should remember and celebrate, they do not. But, they are at the forefront of celebrating Jayantis of Sultans: PM
Tipu Sultan, the erstwhile ruler of the kingdom of Mysore, is revered and despised in Karnataka, noted this Hindustan Times editorial in October 2017. The debate over the king became louder when the Siddaramaiah-led Congress government began celebrating his birth anniversary.
11.19am: Modi says Congress has played with the emotion of the people of Chitradurga. The party celebrates the birth anniversary of those who should be remembered.
11.13am: Modi says Chitradurga is synonymous with the mantra of Jai Jawan, Jai Kisan and Jai Vigyaan. This land is prone to drought but the farmers here have been innovating and turning adversities into opportunities, he says.
11.10am: PM Modi addresses a public meeting in southern Karnataka's Chitradurga.
10.15am: Congress president Rahul Gandhi targets the RSS and BJP in a video tweet, says the ruling party believes in fascist ideology that the Dalits and Adivasis continue to exist at the bottom rung of society.
10.12am: The Election Commission-appointed surveillance teams have seized suspect cash, jewellery and other inducements worth over Rs 120 crore in Karnataka on Saturday, ANI reports.
10.11am: Karnataka chief minister Siddaramaiah hit out at Prime Minister Narendra Modi over his "Punjab, Puducherry, Parivar- Congress" jibe against the Congress and called the BJP a "prison, price rise and pakoda" party. The chief minister also criticised Modi's attack regarding increase in assets belonging to some Congress legislator or minister.
Close Story
Personalise your news feed. Follow trending topics