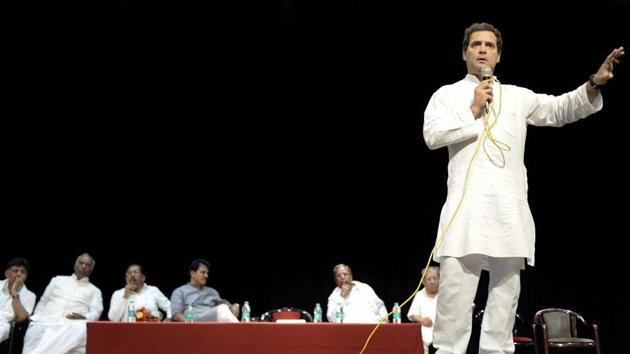 Karnataka elections: Congress ticket distribution to be a test for Rahul Gandhi
Congress president Rahul Gandhi had resolved to prefer loyalists over paratroopers in ticket distribution.
UPDATED ON APR 06, 2018 09:15 AM IST
Having faced allegations of selling party tickets in the past two assembly elections in Karnataka, the Congress is trying its best to avoid any controversy this time, a senior party leader familiar with the selection process said on Tuesday.
The ruling party has received more than 1,000 applications from ticket seekers for the 224 seats in the state and the screening committee will meet on April 9 and 10 to shortlist candidates, the leader added.
The shortlist will then be sent to the central election committee (CEC) for approval. The CEC is expected to meet on April 11-12.
The Congress has repeatedly come under attack for its "failure" to address anomalies in the candidate selection process.
Just before the 2008 assembly elections, senior leader Margaret Alva, in a scathing attack, aimed at party colleagues Prithviraj Chavan, Digvijaya Singh and Vayalar Ravi, had created a flutter by alleging that the party tickets were sold.
In 2013, similar allegations had forced the Congress leadership to review its list of candidates.
This time too, the process set off on a bad note. A tweet last month by Congress veteran M Veerappa Moily, who disowned and later deleted it, created ripples in Karnataka's political circles. The tweet slammed the candidate selection process by alleging a nexus between road contractors and state minister HC Mahadevappa, who is considered close to chief minister Siddaramaiah.
"INC needs to solve money in politics. We can't afford to have road contractors and their nexus with the state PWD minister determine how candidates are selected for the upcoming assembly elections." read the tweet. Congress president Rahul Gandhi was tagged on it.
However, Moily distanced himself from the tweet, claiming that his Twitter account may have been hacked and insisted that he had nothing to do with it.
But the damage had already been done. The BJP took the chance to attack the Congress and Siddaramaiah. "At last, someone's conscience in the INC has prodded him to speak up! Moily ji is right. We have been saying that Siddaramaiah is 10% CM. With contractors filling PWD Minister's deep pockets, state's coffers and roads are in tatters. Congress veteran's view validates our point," state BJP chief BS Yeddyurappa tweeted.
The Congress is now trying hard to avoid a repeat of such controversies. The screening committee, headed by senior leader Madhusudan Mistry, has been asked to diligently evaluate the applications after going through reports submitted by observers deputed to get feedback from the ground about the probable candidates, said the leader.
The Karnataka polls will also be a litmus test for Gandhi who, at the party's 84th plenary session in Delhi last month, had resolved to prefer loyalists over paratroopers in ticket distribution.
Close