Karnataka joins loan waiver spree, announces relief for 22 lakh small farmers
The waiver announced in the state assembly by chief minister Siddaramaiah will help 22,27,506 farmers who obtained loans from cooperative banks.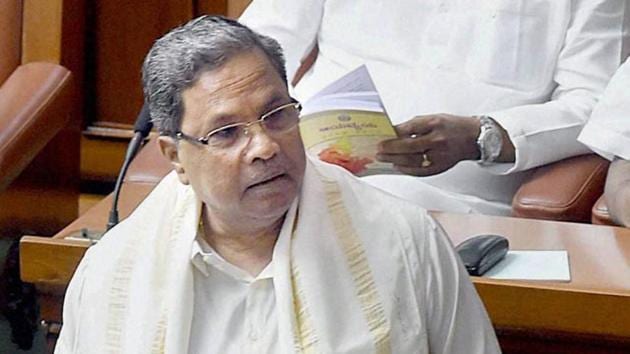 Updated on Jun 21, 2017 06:20 PM IST
Karnataka will waive cooperative bank loans to farmers, becoming on Wednesday the latest state to offer a write-off amid growing farm unrest in the country.
"Loans worth Rs 8165 crores will be waived, benefitting 22,27,506 farmers across state," tweeted chief minister Siddaramaiah.
Loans up to Rs 50,000 taken till this June 20 will be waived.
The partial waiver is expected to bring relief to farmers in a state reeling under three consecutive years of drought. Sowing in the previous year was down by about 40%, according to the Karnataka Agricultural Prices Commission.
GC Byyareddy, a member of the Karnataka Prantha Raitha Sangha, a farmer organisation, welcomed the move but said the decision was taken because the government was under pressure after write-offs announced by other states.
"According to us, loans from cooperative banks forms only about a fourth of formal credit. So, the major relief will only come if loans from nationalised banks are waived," he said.
The state's Congress government said the major proportion of crop loans were from nationalized banks and the chief minister wants the Union government to waive such debts.
Siddaramaiah said in the assembly that Karnataka farmers owed around Rs 42,000 crore and Rs 10,736 to nationalised banks and cooperative banks.
"I now challenge the BJP state unit to convince the central government to waive the remaining debts," he said.
The BJP countered that the loan waiver was the result of pressure exerted by the party but the amount fell short of expectations.
"We were demanding a waiver of loans up to Rs 1 lakh," state BJP chief BS Yeddyurappa said.
The move follows Uttar Pradesh, Maharashtra and Punjab announcing loan waivers and a violent rural strike demanding debt relief in Madhya Pradesh, which left five farmers dead in police firing in Mandsaur.
In Maharashtra, ruled by the BJP, farmers are clamoring for a bailout after two years of drought and falling commodity prices. In Punjab, known as India's grain bowl, the Congress won last month's election partly on the promise of a farm loan waiver.
In southern Tamil Nadu, reeling from dry weather, a court asked the state government to write off loans to all farmers. Farmers from the southern state recently protested in New Delhi, showing the skulls of neighbours who had committed suicide to press their demand for drought relief and loan write-offs.
The outburst of discontent poses a challenge for Prime Minister Narendra Modi, who has promised to double farmers' incomes over the next five years.
Two-thirds of India's population of 1.3 billion depends on farming for their livelihood, but the sector accounts for just 14% of gross domestic product, reflecting a growing divide between the countryside and increasingly well-off cities.
Devika Kher, a policy analyst at Bengaluru-based think-tank Takshashila Institution, said it was a question of utilising revenue more productively.
"In the long term, the state government will have to think of a way of increasing revenue from agriculture."
(with inputs from agencies)
Close Story
Personalise your news feed. Follow trending topics