Kashi Vishwanath-Gyanvapi mosque case: Sunni board moves HC over trial court order
Updated on Apr 14, 2021 02:58 AM IST
The religious dispute – similar to the one in Ayodhya – is decades old and first reached the courts in 1991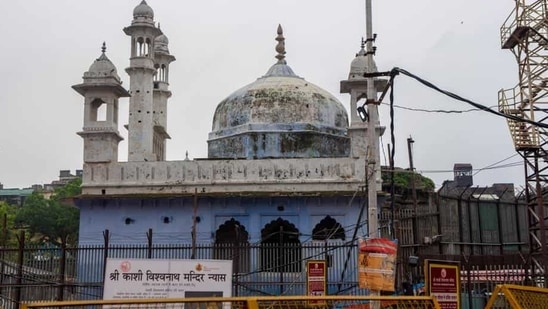 The Uttar Pradesh Sunni Central Waqf Board (UPSCWB) on Tuesday approached the Allahabad high court seeking temporary suspension of a Varanasi local court verdict that ordered an archaeological survey of the Gyanvapi mosque to determine if it was built after demolishing a Hindu shrine.
The move came a day after the management committee of the 17th-century mosque, which abuts the Kashi Vishwanath Temple, also filed an urgent petition in the high court against the Varanasi court order.
The religious dispute – similar to the one in Ayodhya – is decades old and first reached the courts in 1991, when local Hindu priests sought permission to worship in the mosque area. In 1998 the matter reached the Allahabad HC, which on March 15 this year reserved its judgment on various pleas challenging the maintainability of the 1991 suit.
But on April 8, a Varanasi local court asked the Archaeological Survey of India (ASI) to conduct a "comprehensive physical survey" of the mosque premises. The order came on a separate petition filed on December 2019 by Vijay Shankar Rastogi, who demanded the mosque area be surveyed to prove Mughal rulers demolished a part of the temple and illegally built a mosque.
UPSCWB argued that the Varanasi court order was illegal because proceedings on the same matter were pending before the Allahabad HC.
"The urgent application is filed seeking a stay on the lower court proceedings during pendency of petition in high court on maintainability of 1991 suit, while a separate revision petition will be filed in district court challenging the order of archaeological survey of the Masjid complex," said UPSCWB counsel Puneet Kumar Gupta. "Since justice Prakash Padiya of the Allahabad HC reserved the judgment on March 15, 2021, how can the lower court hear the matter and pass the order?" he asked.
On Monday, the Anjuman Intezamia Masjid Committee, which runs the Gyanvapi mosque, filed an urgent petition before the high court , and said the trial court order was passed illegally and without jurisdiction.
"The HC had reserved verdict on issue of maintainability of the suit. The court below should not have passed any order in the suit till the issue of maintainability of suit was decided by the high court," said senior counsel SFA Naqvi, who appeared on behalf of the Masjid committee.