Kashmir man in army jeep video: I queued up to vote, why would I stop others?
Purported videos showing rights violations by Indian forces in Kashmir triggered outrage in the Valley, just days after a video appeared showing abuse of securitymen by youth.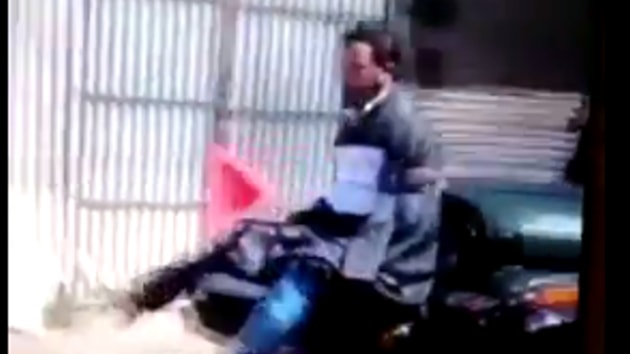 Updated on May 03, 2017 07:36 AM IST
It was a sunny Sunday morning in Kashmir's Beerwah region. The morning chill had just dissipated in the sunshine and Farooq Ahmad Dar was on his way to his sister's house as there had been a death in the house.
The 26-year-old had spent his morning queuing up outside a polling booth in Arizal's Chill Bras area for the Srinagar Lok Sabha bypolls, defying a separatist boycott call that contributed to the lowest turnout in almost three decades.
But within minutes, Dar says his life was turned upside down. He claims he was pulled from his motorcycle by army personnel, tied to the front of a jeep and driven around from village to village for hours – a purported video of which has gone viral on social media and triggered nationwide outrage.
Dar says he has bruises on his body from the army's apparent thrashing but appears more affected by the trauma of the alleged incident.
"I was tied up at 10 in the morning and taken off the jeep at around 5.30. God knows how many kilometers they travelled with me tied in the front,'' he tells HT, pointing at a torn phiran muddied with many stains.
"All this while, I thought I would be killed."
The purported video has since become the headline of mounting hostility between the security personnel and the army, which is accused of committing human rights excesses in the border state.
The army has ordered an inquiry and sources claim Dar was part of a stone pelting mob that attacked the personnel. But Dar says he was peaceful and had just got down from his motorcycle to check on a few women protesting at Utligam.
"Please check my name in the list of voters, if I voted for democracy, why would I stop others from voting and pelt stones?" says Dar, a shawl artisan who says he voted at booth number 90 in Chill village and showed the indelible ink mark to security personnel.
He says the video – which forced chief minister Mehbooba Mufti to ask for a report and drew condemnation from former CM Omar Abdullah – was shot at Gundipora, a few kilometers from where he was allegedly arrested.
He says he was alone on his motorcycle while his brother and neighbour were on another motorbike.
His brother Fayaz Ahmad Dar says the family went to the army camp to seek his release. "He could have been killed by the army, hit by a stray bullet or even a stone,'' Fayaz said.
Dar says he was let off around 7.30pm, when the village head and other elders visited the Rashtriya Rifles camp.
"We are poor people and Kashmiris. Whether we vote or note, whether we are pro-Azadi or anti-azadi, for them (security forces), we are the same," says Dar.
"It will be an experience I will never forget."
Close Story