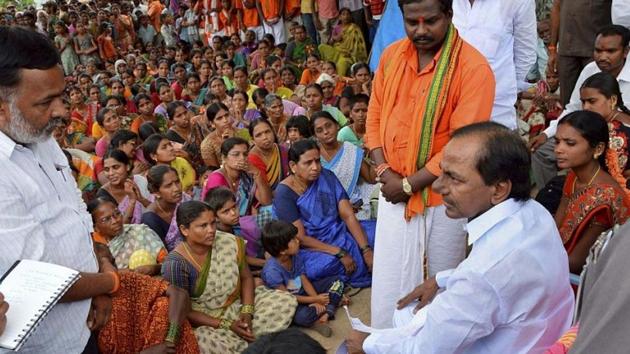 KCR on land allotment spree to various castes, religious communities
While opposition parties have said it was against the spirit of the constitution, many of these allotments are yet to see construction activities.
UPDATED ON DEC 26, 2016 07:07 AM IST
Telangana chief minister K Chandrasekhar Rao has been on land allotment spree to various communities in an apparent bid to win over their support in the state.
The latest came on Friday, when the TRS government issued an order allotting 6.1 acres of land at Gopanpally in Hyderabad's suburbs to Brahmin community for construction of a Brahmin Sadanam, a resource centre and a hostel facility for Brahmin students pursuing higher education. It would also have accommodation to the Archakas visiting Hyderabad.
In the same order, the government allotted 10 acres of land at Budwel near Rajendranagar to the Raja Bahadur Venkatrama Reddy Educational Society from the Reddy community for setting up a hostel for Reddy students, an old age home and a residential school.
Read | KCR oversees the woes of Telangana from his bulletproof confines
Both the pieces of land would be charged a nominal rate of Rs 1 per acre against the prevailing rate of Rs 4 crore per acre as per government estimates whereas the market value would be at least five times the government rate.
According to sources, the allotments were made as per the promises KCR made to these communities on different occasions.
During a meeting of Reddy Jana Sangham in October 2015, he had announced a grant of Rs 10 crore and 10 acres of land.
Similarly, on October 23 this year, he announced setting up of a Brahmin Corporation with a corpus fund of Rs 100 crore, besides allotment of land.
Opposition parties have described it as a move to appease various communities.
Telangana Congress spokesperson Dasoju Sravan said the allotments to caste and religious groups were against the constitutional spirit.
He also noted that the allotment to rich communities at just Rs 1 per acre was a waste of public money.
The chief minister had also allotted lands to other communities, but little has come up on these.
In December 2014, the CM laid foundation for a Christian Bhavan at Mahendra Hills in Secunderabad and sanctioned Rs 10 crore for its construction. However, no work has been done till date due to legal problems over the land.
Two days back, KCR promised a two-acre land for the Christian Bhavan at Nagole in lieu of the one at Mahendra Hills and said it would be ready by next Christmas.
He had laid the foundation for three other Bhavans—Adivasi Bhavan for tribals, Babu Jagjivan Ram for Dalits and Banjara Bhavan for Lambada community—in December 2014 on a three-acre land in upscale Banjara Hills in Hyderabad and announced Rs 7.5 crore for their construction. Till now, there has been no progress.
A building promised in April 2015 at Rs 5 crore in the name of social reformer Basaveshwara to appease the Lingayat community has met the same fate.
So was the case with Kerala Bhavan announced in February 2015 on a one-acre land at Mahendra Hills and Doddi Komaraiah Bhavan, in memory of the first martyr of Telangana's armed struggle, on a one-acre land at the same place.
Read | Dwindling revenue forces Telangana to put welfare schemes on the back burner
Close