Kerala 'love jihad': Hadiya's father moves fresh plea seeking in-camera proceedings
Updated on Nov 21, 2017 07:54 PM IST
24-year-old Hadiya's parents allege that her marriage to a Muslim man is a case of 'love jihad'.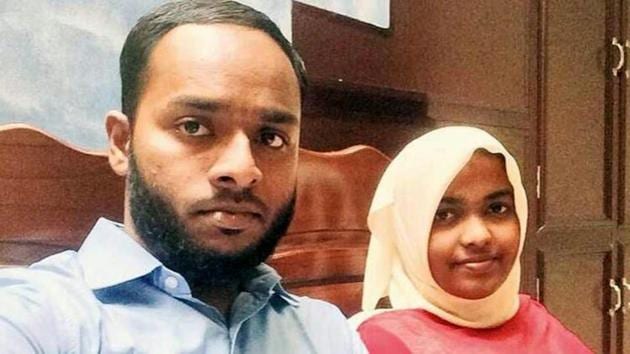 Hadiya's father moved the Supreme Court on Tuesday seeking direction for in-camera proceedings of the hearing on November 27 by a bench led by Chief Justice DIpak Misra in connection with the Kerala 'love jihad' case.
KM Asokan said he and his daughter had right to privacy and that there were threats from extremist elements to their family.
In his application Asokan has requested the court to recall its earlier order directing Hadiya's personal presence and insisted that the proceedings should be held away from public gaze as it not a "reality show."
Citing the recent privacy ruling, the father's application said: "Further, this Hon'ble Court would be kind enough to take into consideration the impact on the privacy of not only Akhila but her family as well."
Hadiya was named Akhila before she converted to Islam.
"It is respectfully submitted that a family's anguish and misery caused by the acts of an extremist organization should not be reduced to a public spectacle and or a reality show. The object of the production of Akhila in a court is to enable this court arrive at the truth and ascertain the role of PFI/other extremist elements and whether there is a network in place or systematic conversion and radicalization activities," the application filed through advocate Madhavi Divan stated.
Asokan submitted the HC had ordered round the clock security to his family in view of the threat perception from the radical elements.
"Given the extent of religious indoctrination by extremist elements, wherein the respondent's daughter is already spewing narratives of hell and the torment meted out to sinners, she may be subject to undue pressures which could be an obstacle to truth seeking and the dispensation of justice," Asokan's application pleaded.
In a related development Shafin Jahan – who was married to Hadiya before the Kerala HC declared it a sham – has sought contempt action against an officer of National Investigation Agency (NIA), accusing him of proceeding with the probe without any supervision as ordered by the SC. Jahan has challenged the HC order and wants restoration of his marriage with Hadiya who has been living with her parents following the high court order.
Jahan has claimed that Hadiya is under lock and key and nobody has access to her. He recalled the first order the apex court issued on his petition, asking the NIA to conduct a probe into the allegations that the couple's marriage was part of a well-oiled mechanism in Kerala to influence young girls embrace Islam for the purpose of joining ISIS.
Jahan said the order allowed NIA to investigate under the supervision of retired SC judge Justice RV Raveendran. Since the former judge has declined to take up the assignment, Jahan said NIA should be stopped from carrying on with the probe.
Personalise your news feed. Follow trending topics