Kerala orders probe into row over youth fest theme song
Jan 11, 2023 12:33 AM IST
In the musical programme depicting patriotism, secularism, unity and fighting spirit of forces, Indian army jawans were shown apprehending a man, a suspected intruder in border areas donning a headgear Keffieh, traditional Arab attire worn by men
The Kerala government on Tuesday ordered a probe into the controversy over the welcome song and dance skit of the youth festival held in Kozhikode in which a community was allegedly portrayed in bad light inviting criticism from many quarters.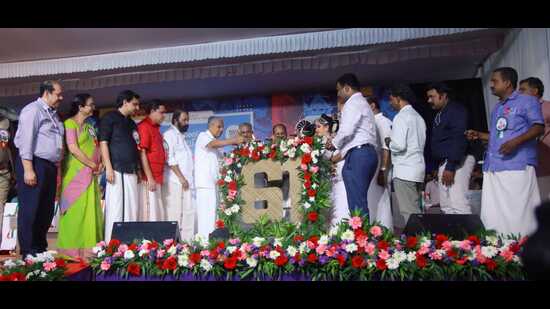 Talking to reporters in Kollam (south Kerala), education Minister V Sivankutty said the welcome song was not in tune with the position and principle of the left front government and asked the school education director to investigate the issue and submit a report in a week. He also said organisers of the skit, Mata Kala Kendra in Kozhikode, will be banned from all functions of the education department.
In the musical programme depicting patriotism, secularism, unity and fighting spirit of forces, Indian army jawans were shown apprehending a man, a suspected intruder in border areas donning a headgear Keffieh, traditional Arab attire worn by men. Critics said intruder should have used masks or other gadgets but instead "he wore traditional Muslim attire insulting the community."
"It is really unfortunate that a particular community was portrayed badly in the welcome song. When I asked organising committee members about this, they told me during rehearsal, costumes were not worn by participants. The government viewed the issue seriously," he said. The CPI(M) Kozhikode district committee and tourism minister Mohammad Riyas also deplored the theme song.
The Indian Union Muslim League, an ally of the Congress, was first to raise the issue. "It was really sad the intruding terrorist was given the traditional costume of Muslims. It will give a wrong message," said party leader P K Kunhalikutty. "It is nothing but Islamophobia," said Youth League leader P K Firoze.
"There are attempts in our country to portray a particular community as extremists. In the particular case, it seems organisers of the song tried to instil the ideology of Sangh Parivar. It should be investigated thoroughly," said Riyas.
Congress leader K Muraleedharan has sought an apology from chief minister Pinarayi Vijayan who inaugurated the festival held from January 3-7 . "It was a big lapse. Many ministers and senior officials were camping at the festival site and some of them even witnessed rehearsals. You cannot depict a community like this and the government even surpassed the Sangh Parivar," he said.
But the BJP said the CPI(M), Congress and League wanted to "give a stamp of patriotism to a terrorist." "It is part of cheap appeasement politics," said party leader S Suresh.
Organisers of the theme song denied any attempt to denigrate a community. "Initially many including minister Riyas praised the song. It was not Arab attire at all. The man who acted as intruder in a passing scene just kept a towel over his head. We never thought it will create such a fuss. We never expected this from leaders who always upheld artistic freedom," said one of the office-bearers of "Mata Kala Kendra", adding that politics was not involved.
The school youth festival, dubbed as one of the biggest cultural festivals, was mired in another controversy over non-vegetarian food and master chef Pazayidom Mohanan Namboothiri who prepared food in last 16 years later announced his decision to keep away from the festival. He said the controversy over vegetarian and non-vegetarian food pained him and some people even tried to dub him communal.