Killings of jawans by Maoists not violation of human rights: CRPF
Based on this reasoning, CRPF refused to shared an inquiry report into the killing of 25 personnel in April.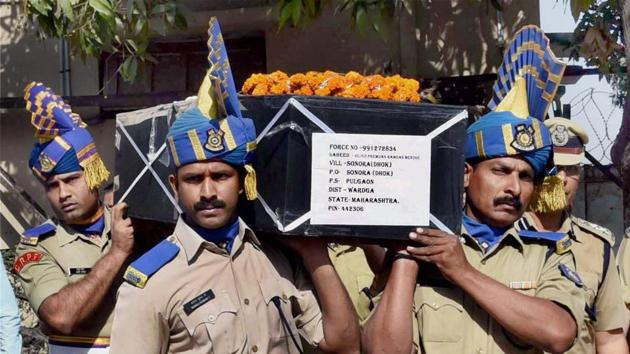 Updated on Jun 21, 2017 01:59 PM IST
Press Trust of India, New Delhi |
Press Trust of India
The killing of 25 personnel by Maoists in Chhattisgarh's Sukma on April 24 this year apparently does not qualify as a "human rights violation" for the CRPF.
The force gave this response while refusing to share the inquiry report into the incident with a Right to Information (RTI) applicant.
Human rights activist Venkatesh Nayak had sought the report, saying the massacre violated the human rights of those killed.
The force is exempted from making disclosures under the RTI Act unless the information sought pertains to allegations of human rights violation and corruption which may or may not be committed by the CRPF personnel.
Citing the exemption clause, the CRPF in its response said, "In the instant matter, there appears to be no violations of Human Rights as well as facts of the case do not attract allegations of corruption. Moreover, your application does not make any reference to such allegations. Hence this department is not liable to provide any information in this regard to your under RTI Act-2005."
Giving additional arguments to withhold information, the CRPF also said the report contains operational details hence cannot be shared.
Nayak said the murderous attack in April by Left Wing Extremist groups amounts to violation of their human rights by "non-State actors" and by denying this "reality", the CRPF may be doing injustice to its own personnel.
"Every time such an attack occurs, self-appointed conscience-keepers of the 'nation' and advocates of a belligerent brand of 'nationalism' ... accuse human right advocates of not raising their voice against the violation of the rights of security personnel," Nayak said.
He added that the government's attitude towards such incidents has to be questioned.
"Why does the government and in this case, the CRPF, fight shy of treating these attacks as 'human rights violations' of their personnel? Surely, there must be a reason for it," he said.
Nayak said if such attacks causing the deaths of security personnel are not treated as "human rights violations" committed by non-State actors, why should right activists be portrayed as "villains", even though they always condemn such incidents in unequivocal terms.
The Central Reserve Police Force (CRPF) is the premier central police force for internal security. CRPF played a pivotal role in curbing militancy in Punjab during 1980s and insurgency in Tripura during 1990s. Today, more than one third of the force is deployed in left-wing extremist affected areas to control extremism.
Close Story
Personalise your news feed. Follow trending topics