Family's militant past won't affect Kashmir youth seeking passport': Centre
Updated on Dec 18, 2017 06:17 AM IST
Central government has advised the Jammu and Kashmir government to enure that genuine cases of Kashmiri youth applying for passport are not hindered by their relative's name being connected to any militancy-related cases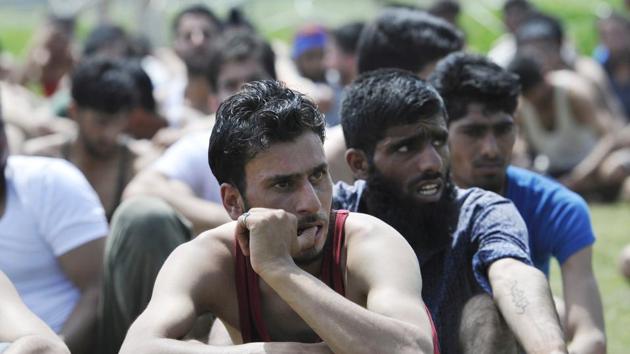 The central government has advised the Jammu and Kashmir government to enure that genuine cases of Kashmiri youth applying for passport are not hindered by their relative's name being connected to any militancy-related cases in the past.
A group of 8-10 youth from the Valley had approached Dineshwar Sharma, who made several visits to the state earlier this month as the Centre's special representative, and claimed that the state's Crime Investigation Department (CID) had refused security clearance to them, thus affecting their passport applications, an official from the Union ministry of home affairs said.
The youth believed that the denial of security clearance was due to the alleged links of their relatives with militant groups.
"These grievances have been communicated to the MHA and the government has advised the state government to consider genuine cases of youth applying for passport," the official said.
The official added that while no written communication has been sent in this regard, the matter came up when Sharma briefed the MHA about his visits to the Valley earlier this month.
When asked to confirm, Sharma told HT, "I am not in a position to comment on it officially but I will reiterate that anyone in Jammu and Kashmir, no matter what their issue is, can approach me. I am open for all."
HT contacted J&K's director general of police, SP Vaid, who confirmed that they have been in touch with the CID and the Intelligence Bureau regarding this.
"We can assure the people of Kashmir that all genuine cases of individuals seeking a clearance from authorities will be able to get it. No one will be punished for past activities or history of their relatives," Vaid said.
Another MHA official said the move is part of the government's strategy to provide all possible avenues for Kashmiri youth.
"The Union home minister (Rajnath Singh) has made it a point that youth from Kashmir are top priority for the central government," the official said.
Earlier, J&K chief minister Mehbooba Mufti had announced amnesty to first-time stone pelters after the MHA advised her government to withdraw criminal cases against youth who had engaged in violent protests for the first time in 2016.
The year was marked with five-month long agitation following the killing of Hizbul Mujahideen commander Burhan Wani. Over 100 civilians were killed during the unrest in 2016.