Kiren Rijiju rules out probe into molestation charges by Meghalaya governor
Updated on Jan 29, 2017 07:45 PM IST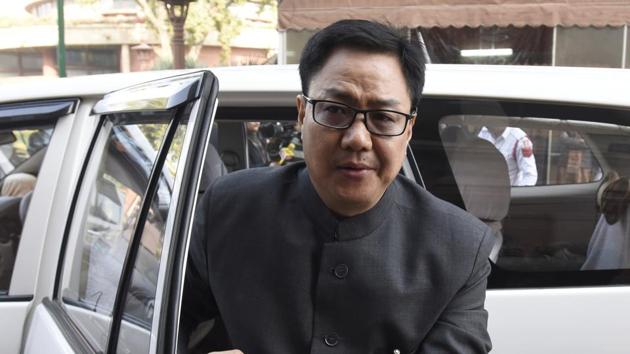 Union minister of state for home Kiren Rijiju on Sunday ruled out a probe into the alleged "inappropriate behaviour" of V Shanmuganathan, who was forced to resign as the governor of Meghalaya.
"As of now, there is nothing in the form of documentary evidence against the former Governor to investigate the allegations. Nothing is in our hands (central government)," he told IANS on the sidelines of the first North East Investment Summit here.
However, he described the resignation of Shanmuganathan, who was also the Governor in-charge of Arunachal Pradesh, was done on "moral grounds".
"I cannot comment on whether the government will institute an inquiry into the allegations. It is too premature for me to do so," the minister said.
Earlier, Meghalaya chief minister Mukul Sangma said that he was communicating with the central government on the controversy.
Shanmuganathan resigned on January 26 after nearly 100 employees of Raj Bhavan in Shillong sent a five-page letter to the Prime Minister's Office and Rashtrapati Bhavan, demanding that the Governor be recalled for what they alleged was "turning Raj Bhavan into a Young Ladies Club".
From the time Shanmuganathan took office, the employees alleged, they were going through "severe humiliation, mental stress and torture".
The protest letter by the Raj Bhavan staff came after an English daily report quoted a woman accusing Shanmuganathan of making advances by "hugging and kissing me".
The woman was one of the seven candidates selected for an interview for the post of a public relations officer at Raj Bhavan.