Congress, JD(S) meet today to discuss alliance details; Kumaraswamy to call on Sonia and Rahul tomorrow
Kumarswamy faces a a delicate balancing act in allocating portfolios in his Congress-JD(S) coalition government in Karnataka.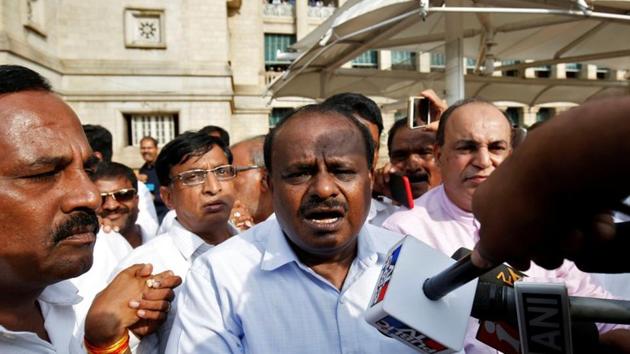 Updated on May 20, 2018 05:55 PM IST
Hindustan Times, Bengaluru |
HT Correspondent
The Congress and Janata Dal (Secular) legislators will meet in Bengaluru on Sunday to chalk out the details of the alliance, a day after BJP's Yeddyurappa resigned as Karnataka chief minister after an emotional speech without facing the floor test in the assembly as the BJP fell short of numbers.
The post-election alliance of the JD(S) and Congress, which claims the support of 117 members, has already staked its claim to form the government and said it would be headed by Kumaraswamy, the son of former prime minister HD Deve Gowda. The new chief minister will take oath at Kanteerava stadium on May 23, tentatively between 12 noon and 1.50pm.
The incoming chief minister, who faces a delicate balancing act in allocating portfolios in his coalition government, may keep the finance portfolio with himself. People familiar with the matter said Congress leader G Parameshwara is likely to become the deputy chief minister and home minister, reports news agency ANI.
After a meeting with Congress leaders on Saturday, Kumaraswamy said they also discussed moving the confidence motion on May 24. He said a coordination committee would be formed to prepare a common minimum programme to implement the promises made by the two coalition partners.
Kumaraswamy was earlier expected to be sworn-in as chief minister on May 21. But the day being former prime minister Rajiv Gandhi's death anniversary, the ceremony got pushed to May 23.
"We are going to take oath on Wednesday as Monday is Rajiv Gandhi's death anniversary. That is not a proper date. In the entire country, all the Congress workers will be attending death anniversary functions. Conducting oath taking ceremony at that time is not good. In the today's meeting we discussed about this only. On Monday, we will discuss about the oath ceremony," Kumaraswamy told ANI.
Kumaraswamy has invited various political leaders for his oath ceremony.
"West Bengal chief minister Mamata Banerjee, Andhra Pradesh chief minister Chandrababu Naidu, and Telangana chief minister KC Rao congratulated me. Mayawati ji has also blessed me. I have invited all regional leaders for oath ceremony. I've also invited Sonia Gandhi ji and Rahul Gandhi ji personally," he told reporters after meeting the Karnataka governor.
He said he would meet Sonia Gandhi and Rahul on May 21 to extend his gratitude to them. "I will also discuss how many Congress and JD(S) MLAs will become ministers," said Kumaraswamy.
He also clarified that no discussion has taken place so far on the allocation of ministerial berths. Kumaraswamy termed reports on the power-sharing formula of 30 months each between the parties as "bogus".
While making it clear that there have been no discussions yet on the portfolio allocation, Kumaraswamy requested the media not to create confusion among the public and MLAs with such "speculative" reports.
He also asserted that within 24 hours of taking oath, he would prove the majority on the floor of the House.
"Mostly on Wednesday there will be oath-taking ceremony after that on Thursday we will complete the process of Speaker's election and trust vote," he added.
Yeddyurappa resigned on Saturday without facing the floor test that was ordered by the Supreme Court on a petition by the Congress and JD(S) challenging governor Vala's decision inviting Yeddyurappa to form the government and prove his majority in 15 days after election results were announced on Tuesday.
The Congress won 78 seats and the JD(S) 37. One seat went to JD(S) ally BSP, and the others to a local party and an independent. Voting was held on May 12 in 222 out of the state's 224 seats.
(With agency inputs)
Close Story