'Demonetisation historic step': BJP national executive passes economic resolution
Prime Minister Narendra Modi is set to address the Bharatiya Janata Party's national executive on Saturday, hours after the BJP's highest decision-making body passed its economic resolution lauding the government's move to recall high-value banknotes.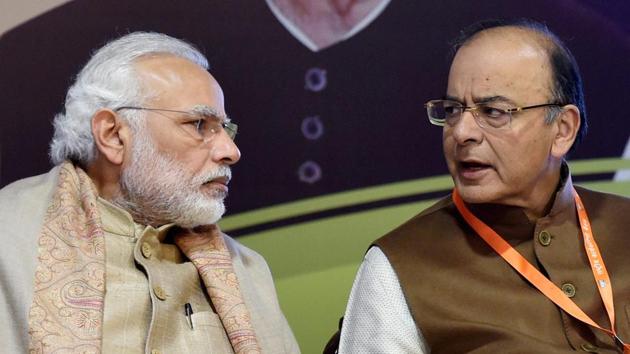 Updated on Jan 07, 2017 04:57 PM IST
The demonetisation exercise is a historic step, commerce minister Nirmala Sitharaman said on Saturday, after the BJP's national executive passed its economic resolution lauding the government's move to recall high-value banknotes.
Sitharaman said the executive's passage of the resolution was unanimous. "PM's visionary leadership was lauded," she said.
The resolution also praised the step and the measures that have followed since November 8, when Prime Minister Narendra Modi announced his surprise move that he said was aimed at curbing black money and corruption. Modi is set to address the BJP meet later in the day.
The announcement to scrap Rs 500 and Rs 1,000 notes sparked chaos and confusion across the country, with millions of consumers queued outside banks and ATMs to change a limited number of old notes for new ones or withdraw cash.
Read: Surgical strike, demonetisation dominate BJP national executive's first day
The Opposition parties attacked the Centre over the decision and blamed it for close to 100 deaths reported in the wake of the shock move.
Quoting finance minister Arun Jaitley, who moved the resolution, Sitharaman said contrary to claims by the Opposition, revenue collections in most large states had gone up during the month of November "with the exception of West Bengal."
The meeting was being held ahead of assembly polls in five states that begin early next month and demonetisation is expected to figure among the election issues.
"The combined opposition has run a negative campaign against the Modi government on demonetisation but the surveys show that 80-85 per cent people have backed the decision," party spokesperson GVL Narasimha Rao said.
Demonetisation and the surgical strike against militant bases across the Line of Control, the de-facto border with Pakistan, dominated the national executive on Friday.
Close Story
Personalise your news feed. Follow trending topics