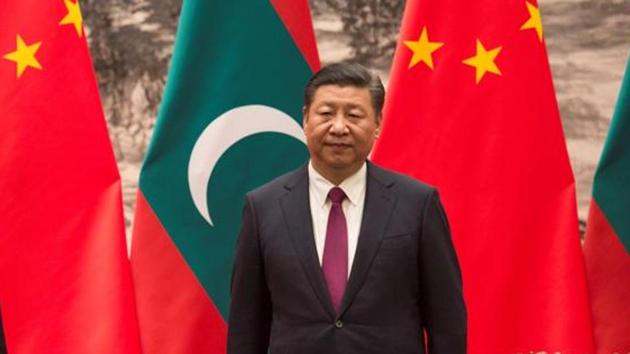 Maldives to pull out of 'one-sided' China trade deal: Report
Maldives is reportedly planning to pull out of a free trade agreement with China as the island nation moves closer to India.
Bloomberg | By Bloomberg
UPDATED ON NOV 20, 2018 05:34 PM IST
The Maldives is reportedly planning to pull out of a free trade agreement with China as the island nation moves closer to India and the West after Ibrahim Mohamed Solih won the presidency in a September election.
The trade imbalance between China and the Maldives is "so huge that nobody would think of a free trade agreement between such parties," Reuters cited Mohamed Nasheed, a former president and now an adviser to Solih, as saying. He separately told the BBC that the trade deal was "very one-sided" and that Chinese investments would be reviewed.
Former president Abdulla Yameen had signed the free trade agreement with China in Beijing in December last year. Later that month his parliament ratified the treaty despite opposition complaints that he had rushed through the 1,000-page document in less than an hour without debate.
Nasheed told Reuters that parliament would not pass legal changes required for the zero tariffs agreement to go into force. More than 99 percent of the $258 million trade between the countries last year consisted of Chinese exports to the Maldives, according to data compiled by Bloomberg.
Also read | New Maldives President Ibrahim Solih promises to strengthen ties with India
Chinese foreign ministry spokesman Geng Shuang said at a Tuesday briefing that the two countries had worked together to reach the "mutually beneficial and win-win" free trade agreement."An early implementation will benefit both sides. We believe that the Maldives government will make the right choice," he said.
'Colossal Blow'
As he took office Saturday, Solih declared that large-scale corruption had drained state coffers and warned that the country had become estranged from the international community. Indian Prime Minister Narendra Modi attended the inauguration, his first ever visit to the country.
"The treasury has endured a colossal blow owing to reckless mega development projects undertaken purely for political gain," Solih said, without mentioning China directly.
Underlining the shift away from China's influence, Solih's office said Monday that the nation -- a tropical tourist destination southwest of India -- would rejoin Britain's Commonwealth of Nations. In a veiled reference to restrictions on freedom of speech and the jailing of opposition leaders under Yameen, the statement noted the importance of promoting human rights, freedom of expression and democracy.
Read more | New Maldives President Ibrahim Solih promises to strengthen ties with India
Close