Mandsaur protests: Three men at the forefront of MP farmers' agitation
Anil Yadav, Shiv Kumar Sharma and Shivkant Dixit are three of the main leaders who have been at the forefront of the agitation by farmers in Madhya Pradesh's Mandsaur demanding higher crop prices and loan waiver.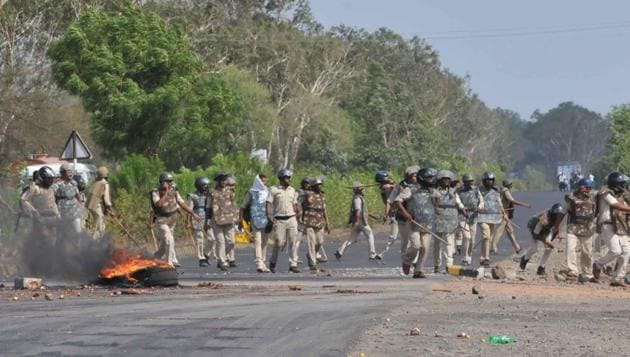 Updated on Jun 08, 2017 07:52 AM IST
Hindustan Times, Bhopal |
HT Correspondent
The agitation by farmers in Madhya Pradesh demanding loan waiver and higher crop prices spread to large parts of the state on Wednesday with protesters torching vehicles, targeting police stations and attacking government officials. Three men have been at the forefront of the agitation.
Here are their brief profiles:
Anil Yadav
He came into prominence during the current farmer agitation. Unlike other two farmer leaders, he is not that well known. But after his organisation Bharatiya Kisan Union (BKU) started calling people to join the agitation, he suddenly came into the limelight The Indore- based leader was finally arrested on June 4 and sent to jail in Bhopal on June 5. Police said he was taken into preventive custody to ensure he plays no role in inciting violent protests.
Shiv Kumar Sharma
Also called kakaji, the veteran farmer leader is at present the chief of Rashtriya Kisan Mazdoor Sangh , which is one the two main farmer bodies leading the stir in the state. Before 2010, he was president of the Bharatiya Kisan Sangh (BKS). But after he led a agitation in 2010, in which farmers laid siege to Bhopal with their tractors for two days, he was expelled from BKS. After that he started a parallel farmer organisation with the name Rashtriya Kisan Mazdoor Sangh.
Shivkant Dixit
Leader of the BKS, which is affiliated to the 'saffron parivar', he came into prominence during the ongoing farmer agitation when he announced on June 4 that the stir had been "deferred". He made the announcement after a delegation he led met chief minister Shivraj Singh Chouhan at Ujjain. This was taken as a betrayal by other two major farmer organisations who were primarily leading the agitation. Dixit is an RSS pracharak, and in the past has worked in the tribal- dominated Chhattisgarh. He has held important posts in the RSS, including vibagh pracharak and state level pracharak. At present, he is sanghathan mantri of BKS units in Madhya Pradesh and Chhattisgarh.
Close Story