Manish Tewari pitches for 'consensus' amid poll drama, recalls Pranab Mukherjee
Published on Sep 30, 2022 10:38 AM IST
Manish Tewari urged for a consensus candidate on the last day of the filing nomination for the Congress presidential election. The Congress leader recalled Pranab Mukherjee's words that Congress presidency is such an office that can't be sought, but has to be offered.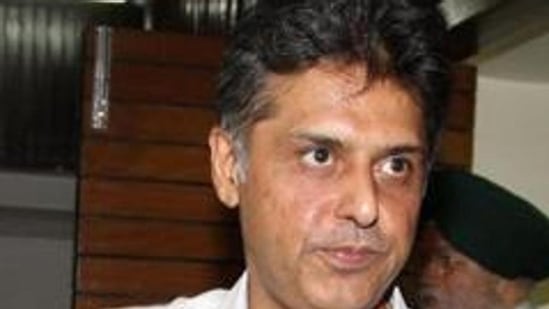 Congress MP Manish Tewari who was speculated to be a contestant in the party's presidential election urged his partymen to recall the wise words of Pranab Mukherjee that certain offices should not be sought and they should be offered. Calling the events that unfolded in the past few days 'unfortunate', Manish Tewari said it's time to close ranks and strengthen the party and work for a consensus and effective presidency. "Leadership, ideological clarity, narrative and transparent access to resources are pillars of 'A' political party," the Congress leader said.
Follow LIVE updates of the Congress president race
In this context, he recalled Pranab Mukherjee's words on Congress presidency that it is such a post that it should not be sought, but offered. "Certain offices should not be sought. They should be offered. Congress presidency to be one such office. The old practice of inviting an eminent person to preside over the annual session of the Congress and that person holding office till the next annual session was truly remarkable. My efforts were always focused at having a unanimously chosen or consensus candidate for the office of Congress president," Manish Tewari shared Pranab Mukherjee's words. Also Read: Kharge likely among Cong prez poll frontrunners, last day of nomination today
The race for the top post of the party is seeing dramatic developments with the Rajasthan crisis being at the forefront. As Ashok Gehlot's candidacy was coming in conflict with his chief minister post, there was speculation whether he will resign making way for Sachin Pilot. Gehlot's loyalists put up a rebellion so that the central leadership keep Gehlot in the CM's post. The crisis finally concluded with Gehlot opting out of the race. Also Read: Is Hindu hatred pre-requisite to contest on Cong prez poll: BJP's fresh salvo
Gehlot deciding not to contest in the poll, Shashi Tharoor, Digvijaya Singh, and Mallikarjun Kharge are the likely contestants though some reports claim that Digvijaya Singh may back out. Today is the last day for filing the nomination for the election.
Several state units have passed motions demanding Rahul Gandhi to be the president but Rahul Gandhi is believed to be unwilling to take up the post that he gave up taking the responsibility of the 2019 Lok Sabha election defeat.
Personalise your news feed. Follow trending topics