Maoist-affected Bastar gets first BPO; 400 tribal youths hired
Updated on Feb 18, 2018 03:41 PM IST
Tribal youths are being trained in English-speaking and technologies so that they can provide customer care services to client companies.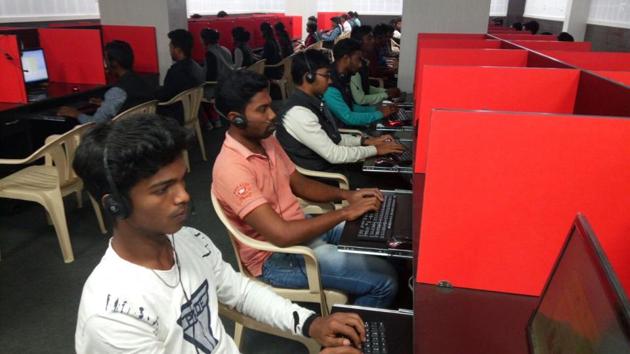 One of the worst Maoist-affected places in the country, Bastar in Chhattisgarh's Dantewada district got its first business process outsourcing (BPO) centre on Sunday, with about 400 tribal youths being hired to work in it.
Called Yuva, the BPO is managed by a private firm, Sixth Generation Technologies, and will provide customer services to client companies.
The youths, hired on probation at a monthly stipend of Rs 4,000, will undergo training in typing, technologies, and speaking English before they are put on the job.
Project in-charge, Somya Chakraborthy said on confirmation, the youths could be paid more as per the companies that hire them for their services.
At least 10 companies, including two international, have shown interest in using services of Yuva.
Housed in the Government Polytechnic College building, Yuva has taken benefit of the Centre's Indian BPO Promotion Scheme to get subsidised infrastructure.
"The idea is to provide the tribal youths employment here itself," Dantewada collector, Saurabh Kumar said, stressing that there were difficulties in setting up the BPO, but officials managed to overcome them.
Chakraborthy said the youths will be trained to type 35–40 English words per minute as per the industry standard, and speak English fluently, besides handling gadgets and different technologies. Hostel accommodation and food come free during this period. After this, they will be sent to Hyderabad for a final training.
Chakraborthy also said that though there was a capacity for 1,000 youths, initially, 400 were hired on probation. The next phase of the recruitment will start soon, he added.
"Initially, it was very difficult to find these youths. Then we came up with an offer for computer institutes in the region that if they provide training to candidates and give them to Yuva, they will be given Rs 1,000 per candidate. This worked and many kids came," he said.
The youths from different parts of Bastar, who are mostly tribals, are selected in this project.
"We have candidates from Barsur, Kistagram , Bijapur and Sukma and all come from Maoist-affected areas," an officer working on the project said.
He also said there was an idea to make this a green BPO. "We are working on solar projects and soon everything in the BPO will be run on solar plant," he added.
Personalise your news feed. Follow trending topics